Argentina asks Uruguay on Falklands' flights information which allegedly land in Carrasco airport
Friday, July 24th 2020 - 09:15 UTC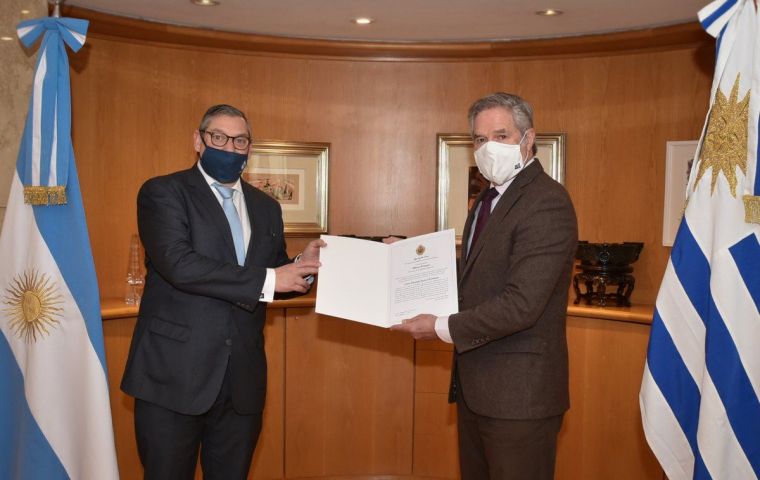 The government of President Alberto Fernandez thanked Uruguay for supporting Argentina's sovereignty Malvinas Islands' claim during the latest Mercosur summit but also asked for information on flights to the Islands that land in Carrasco airport.
This week the new Uruguayan ambassador in Argentina Carlos Enciso, presented his credentials to foreign minister Felipe Solá, and as good neighbors the two officials went over an agenda of shared issues that are of interest to both countries: the Parana/Paraguay/Uruguay waterway and their influence in regional development; Mercosur prospects, and matters of strategic importance for both countries such as River Plate navigation and channels, and the historic ports' dispute between Montevideo and Buenos Aires, which dates back to over 200 years.
However after thanking Uruguay's position in support of Argentina's claim over South Atlantic islands, Solá insisted on information on flights to the Falklands/Malvinas islands which supposedly land in Uruguay.
The request follows on Argentina's protests about recent military exercises by British forces, from the three branches, in the Falklands. Argentina pointed out the participation of HMS Forth, an Infantry company and air support from an A400M and the Typhoon fighters of RAF Flight 1435, based in the Falklands, which are part of "the force display of the illegal occupation of the Malvinas by the United Kingdom"

Ambassador Carlos Enciso is a former mayor and Senator who belongs to president Luis Alberto Pou political grouping, which is the senior member of the ruling coalition in Uruguay. However he has no previous diplomatic experience but has a good close personal relation with president Lacalle Pou.
During his confirmation as future ambassador before the Uruguayan Senate, Enciso said his appointment was an "honor" because of the closeness of Uruguay with Argentina, and appealed to a phrase which he said, has been the country's historic relationship with its two large neighbors, Brazil and Argentina, "a mid-balanced point between Itarmarati and the Palacio San Martin, but always closer to Palacio San Martin"