Brazilian congressional leader confident the tax reform will be approved this year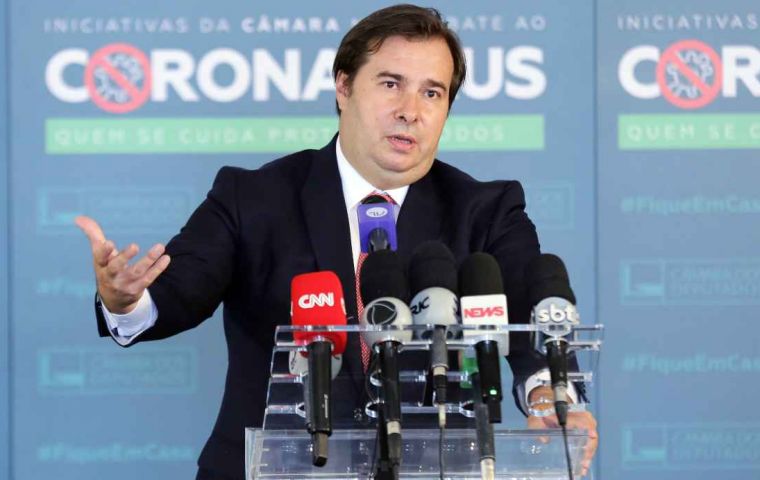 Brazil's lower house speaker Rodrigo Maia said on Monday he is convinced Congress will approve tax reform and that it should be done this year to avoid the debate from being influenced by the 2022 presidential election.
In an interview with TV Tropical do Rio Grande do Norte, Maia also said he will look at impeachment requests against President Jair Bolsonaro at the appropriate time, stressing that the priority right now is the fight against coronavirus.
Maia also said that Brazil must implement some form of basic income program for the country's most vulnerable people next year once emergency payments this year roll off and people are still struggling with the economic fallout from coronavirus.
On administrative reform, Maia said it is up to the government to send its proposal to congress. But the package should not simply be a series of measures aimed at dismantling government, the civil service or cutting public sector pay.
"We hope the government understands that we are not looking for reform to erode or harm government. On the contrary, we think these reforms should strengthen government, regardless of who is presiding," Maia said.
Maia reiterated his view that now is not the time to analyze the impeachment requests piling up against Bolsonaro, but will look into them once the pandemic has passed.
"At the right time, of course, we will look at this issue, analyze it carefully, and decide in the right manner so as not create another constitutional crisis in Brazil," he said.
So far, 48 impeachment requests have been filed against Bolsonaro in the lower house, and it is up to Maia to decide whether to accept any of them. But that is only the first step in a long journey.