China planning fleet of 50 large scale fish farming vessels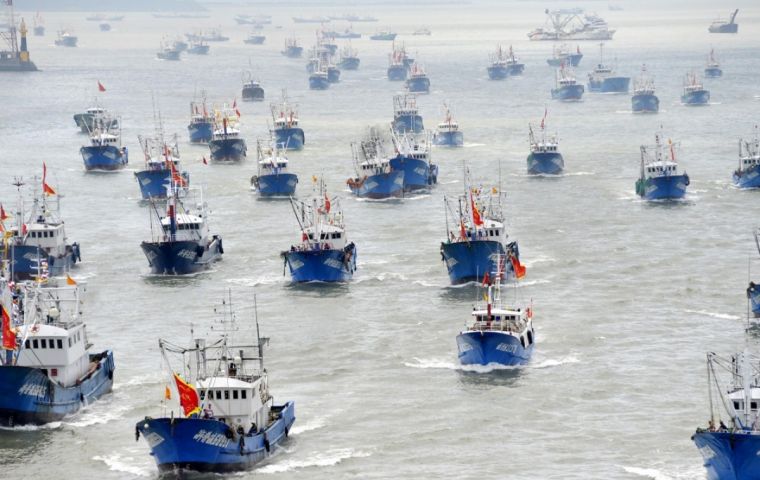 Construction of the world's first 100,000-ton large-scale fish farming ship started in Qingdao of East China's Shandong Province on Saturday, pioneering a new mode of industrial farming with "movable fish farms" on distant seas.
Funded by the state-owned Qingdao Conson Development Group Co, the vessel, named Guoxin No.1, is expected to be delivered in March 2022 and will conduct fish farming far from China's shores, supplying near limitless farmed fish without polluting the environment.
The world's first 100,000-tonne intelligent large-scale fish farming vessel is of great practical significance to China in carrying out intelligent aquaculture and expanding its distant-water deep-sea mariculture space, said Zhang Xianliang, director of the Bureau of Fisheries under the Ministry of Agriculture and Rural Affairs, Xinhua News Agency reported on Saturday.
The Conson Group plans to invest in the construction of an aquaculture fleet consisting of 50 such ships with a gross tonnage of 100,000 tons each, which are expected to annually produce about 200,000 tons of seawater fish with an annual output value exceeding US$ 1.68 billion.
"The ship's 15 tanks can provide 80,000 cubic meters of aquaculture water. Through the aquaculture water exchange system, the water in the fishing cabin and the outside natural sea water are exchanged without interruption," said Dong Shaoguang, deputy general manager of Qingdao Conson Development Group Co.
In this way, mar cultured fish can maintain a good growing state for a long period of time in seawater of a suitable temperature and salinity. Their breeding cycle will also be shortened and their quality will be improved.
With a length of 249.9 meters, a width of 45 meters, and a designed speed of 10 knots, the vessel is able to avoid typhoons, red tides and other severe weather and disasters, conducting aquaculture operations in seas around the world.
Depending on the seasons and water temperatures, Guoxin No.1 will cruise in the Yellow Sea, the East China Sea and the South China Sea all year round, cultivating high-quality fish such as giant yellow fish.
Since 2019, Qingdao Conson Development Group Co has been collaborating with China State Shipbuilding Corporation, the world's largest shipbuilder, Pilot National Laboratory of Marine Science and Technology (Qingdao), and the Chinese Academy of Fishery Sciences to design and build the ship.