Uruguayan Legislative approves limitation of right to assembly until 10 January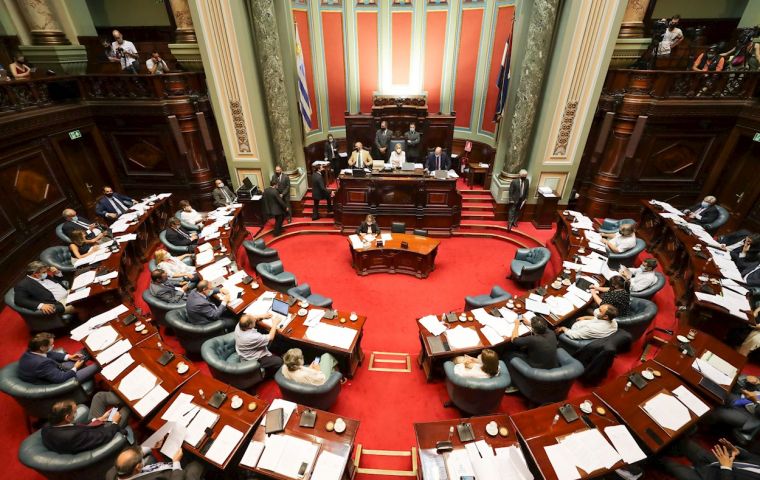 The Uruguayan parliament passed a bill limiting the constitutional right of assembly and closing the borders, both temporarily as part of a package of measures to help contain a spiked of the coronavirus virus.
The bill was approved in the Lower House late last Friday following a long debate and immediately after the Senate gave it half sanction.
The initiative was sent to the Legislative last Friday by the Executive demanding urgent consideration given the spread of the virus and faced strong debate on both houses because the opposition questioned the extent of the measure.
The bill finally approved, "limits transitorily and because of public interest the right of assembly", a right which according to the Uruguayan constitution can only dropped "by law and because it is contrary to public health, security and order".
The measures sanctioned will become effective since promulgation of the bill, and until 10 January.
Vice president and majority whip Beatriz Argimon said, "we are witnessing the daily death of two/three fellow country people, we have more than 500 daily contagion cases and we are above our original estimates".
The initiative is "for a brief period of time and in such circumstances that meetings which do not comply with the sanitary measures, we can act to reverse the situation"
Ms Argimon added that "constitutional guarantees remain intact", because this is an "exceptional situation", and we need to lower the number of infected Uruguayans, the number of those in ICUs and put an end to deaths"
Opposition senator Charles Carrera said that the alternative proposal was to grant the sanitary police special powers to that they can intervene as well as defining protocols for meetings"
According to the latest report from Uruguay's national emergency service system, SINAE, since the pandemic started last March, there have been 13.048 positive cases reported, of which 8,327 have recovered and 4,602 remain active and 119 deaths.