Australia's Antarctic Program MPV Everest scheduled to leave Hobart next 9 January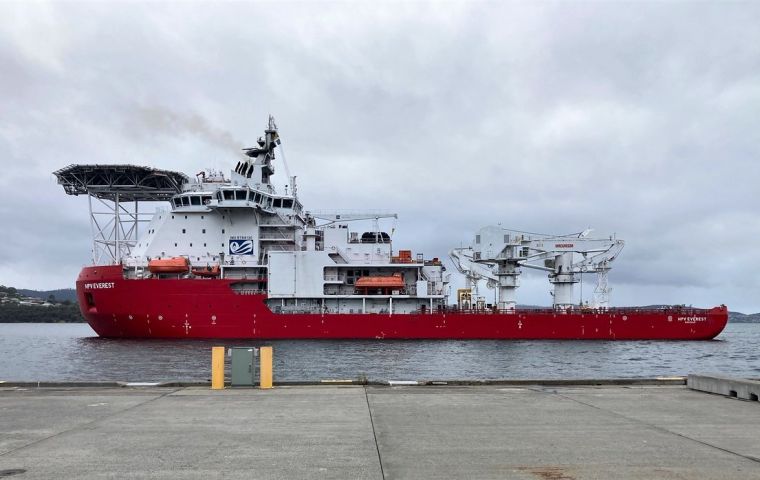 MPV Everest arrived in Hobart, Tasmania, on Wednesday to commence work for the Australian Antarctic Program, resupplying Australian stations and changing over personnel this summer.
The Australian Antarctic Division (AAD) has chartered the vessel to undertake two voyages to Casey, Davis and Mawson research stations in Antarctica.
The first voyage is scheduled to depart for Casey research station on 9 January after cargo and equipment is loaded for resupply, and expeditioners board the vessel.
Built in 2017, the 140-metre long MPV Everest is an ice-strengthened ship with the ability to break sea ice up to one meter thick, and an international crew experienced in polar conditions.
Owned by Maritime Construction Services (MCS), the multipurpose vessel can carry bulk fuel and has cargo space for up to 96 twenty-foot containers on its decks, as well as a helipad above the bridge.
By comparison, Australia's newly completed icebreaker RSV Nuyina (currently undertaking sea trials in the North Sea and due to arrive in Hobart next year) is 160.3 meters long.
The AAD's 2020-21 summer season is focused on preventing the introduction of COVID-19 to Antarctica and keeping people safe.
Activities have been scaled back to changing over teams and resupplying stations, with around half of the usual 500 people travelling south.
Stringent quarantine measures by MCS and AAD are in place to prevent COVID-19 cases on MPV Everest.
Crew members of the MPV Everest were COVID-19 PCR tested three times during a fourteen day isolation period prior to joining the vessel in South Korea.
Expeditioners travelling south on the first voyage are currently in isolation in Hobart, and will undertake COVID-19 testing before boarding the vessel.