Best possible result for Joe Biden: first results indicate Democrats have won the two Georgia Senate seats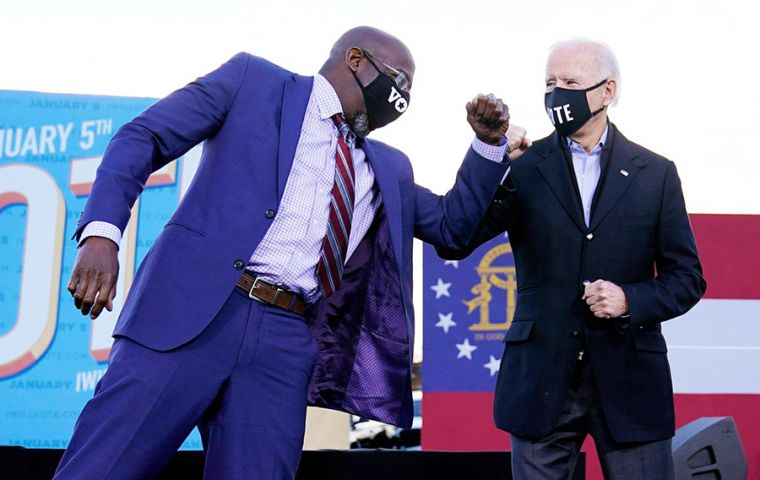 Primary results in the Tuesday Georgia state Senate election indicate Democrats will be taking both seats, the best possible news for president-elect Joe Biden. Meanwhile, Republican incumbent David Perdue vowed to "mobilize every available resource and exhaust every legal recourse" as he fought for his political life in a Senate runoff that was too close to call early Wednesday.
The top aide to challenger Jon Ossoff said the Democrat expects to win because the outstanding votes are "squarely in parts of the state where Jon's performance has been dominant."
The back-and-forth came shortly after Democrat Raphael Warnock declared victory over U.S. Sen. Kelly Loeffler in the parallel Senate contest and major news networks called the race in Warnock's favor. Loeffler, meanwhile, insisted she still had a "path to victory."
Republican officials are growing increasingly nervous as early runoff returns show skyrocketing Black turnout in metro Atlanta and Loeffler and Perdue underperforming in key rural and exurban strongholds.
Warnock will make history as Georgia's first Black senator and the Senate's first Black Democrat to be elected from the deep South.
Democrats are feeling increasingly bullish about their chances of winning both Senate contests, though no major news outlets have declared a winner in the Perdue-Ossoff race,
On the line are two U.S. Senate seats that will determine which party controls the chamber, setting the course for President-elect Joe Biden's agenda in Washington over the next two years. Republicans need to hold onto only one of their seats to maintain the majority in the upper chamber. If Democrats confirm Georgia's two seats the Senate will be split 50/50, with vice president Kamala Harris making the difference.