Lima Group does not recognize Venezuela's Maduro National Assembly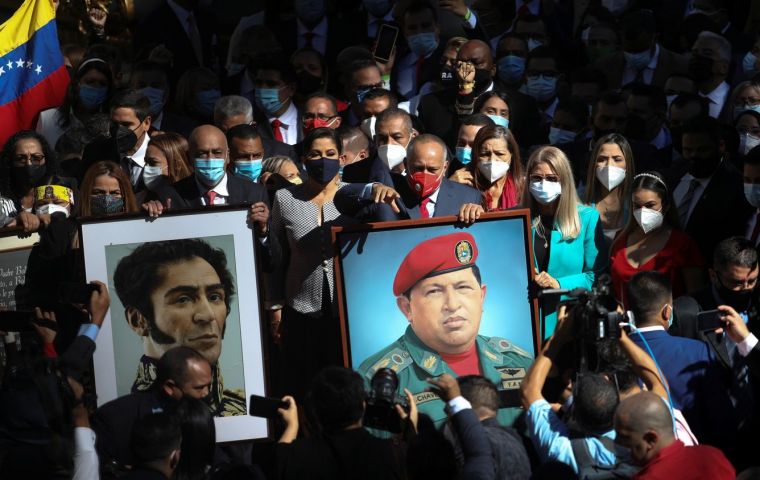 The Lima Group, a regional bloc comprised mostly of Latin American nations, said on Tuesday that it does not "recognize the legitimacy or legality of the National Assembly installed on January 5" in Venezuela.
"This illegitimate National Assembly is the product of the fraudulent elections of December 6, 2020, organized by the illegitimate regime of Nicolás Maduro," the Lima Group said in a statement.
On Tuesday Nicolas Maduro's allies took over Venezuela's National Assembly, as part of a consolidation of power that increases the vulnerability of his opponents. Diosdado Cabello, the vice president of the United Socialist Party of Venezuela, leads the ruling party bloc.
Jorge Rodriguez, the former communication and information minister, took over Juan Guaido's position as full-seat deputy.
"There are crimes that must be paid," Rodriguez said about the outgoing legislators.
Jose Gregorio Correa, an outgoing legislator, delivered a speech in the National Assembly chambers. He stood in front of the new 277 legislators. There are 253 members — including 219 members of the United Socialist Party of Venezuela — who belong to a left-wing electoral alliance.
Most of Maduro's opposition boycotted the Dec. 6 elections. Correa said the low voter turnout should serve as a sign to the new legislators that they need to be more inclusive.
"80% of Venezuela did not vote for you and today you occupy 90% of the seats," Correa said in Spanish.
Maduro, who was reelected in 2018, controls every branch of government. He controls the military and the judicial branch. He also has the support of China, Russia, Turkey, Iran, Cuba, Nicaragua and Bolivia.
Juan Guaido, 37, had led the National Assembly since 2015, and diplomats from the United States and the European Union, and dozens of allies have recognized him as Venezuela's interim president since 2019.
Guaido said on Tuesday that there were armed men outside of his home. Despite the pressure, he said he is determined to continue to work with other members of the opposition to protect the interests of Venezuelans.