According to Maduro, extreme poverty in Venezuela reaches 4%; experts place it at 79.3%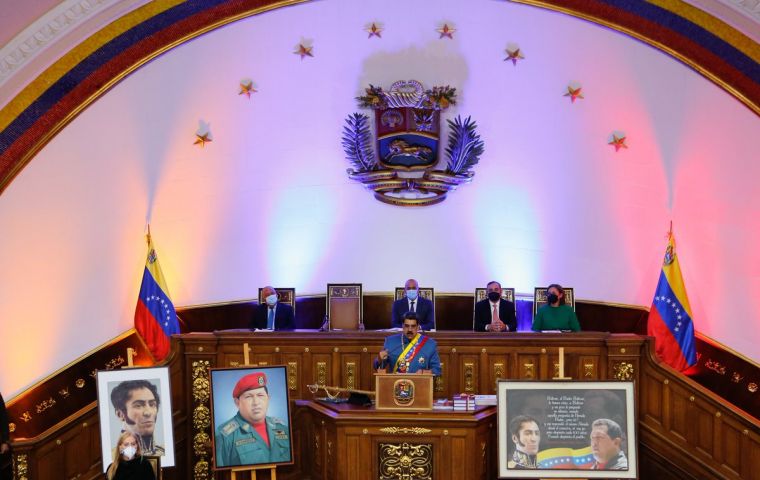 After greeting his cabinet, Venezuelan President Nicolas Maduro said on Tuesday "we are back" to the legislative body that he did not attend in 4 years, a period in which the opposition-controlled the National Assembly. In a special session of a parliament now controlled by chavismo, Maduro offered his first annual message in four years. Among the figures he gave during his speech, the poverty indicators managed by the State standout: 4% of extreme poverty and 17% of "general" poverty.
These data contrast with those offered by the Living Conditions Survey (Encovi) in July 2020, which placed extreme poverty at 79.3% (more than 22 million people) and income poverty at 96.2%. This study was prepared by a group of professionals from the Andrés Bello Catholic University of Caracas and endorsed by the National Assembly of the opposition, presided over by Juan Guaidó, and still recognized by dozens of countries.
The National Assembly attended by Maduro on January 12, composed of 92.4% of representatives of the ruling United Socialist Party of Venezuela, is not recognized by part of the international community. The European Union, as well as most Western countries, announced on January 6 that it did not recognize the results of the last December 6 legislative elections, in which the 27 opposition parties that had parliamentary representation since 2016 did not participate.
The parties that make up the bulk of the Venezuelan opposition announced in August 2020 an agreement not to run in the legislative elections promoted by the Chavismo, considering them a "fraud."
In a document signed by those parties, it is emphasized that all local and international efforts to achieve a fair process have been exhausted. "The Chavista dictatorship ended the possibility of having any kind of free and competitive election," they denounced.
The last time that Maduro appeared before the National Assembly to account for his administration was in 2016. Later, he justified his absence before the Parliament because it was supposedly in contempt.
In his speech on Tuesday, Maduro made use of many misleading data and information of which little was officially known. He praised himself for his government's response to the COVID-19 pandemic despite international sanctions, confessed that the country has gone up to 13 months without selling a single drop of oil and that in the last few years Venezuela suffered a 98.6% drop in its foreign currency income, from 56 billion to barely 743 million in 2020.
"We were the first country in the world to put on the mask and call the general population to its indispensable use," he said, in addition to referring to himself as the first president to put on the mask. However, this statement is misleading. Photographic records show Chinese President Xi Jinping wearing a mask on February 10, 2020, in Beijing, where the first outbreaks of the disease were being fought.