Trump impeached for a second time, but the objective is to bar him from running for office in 2024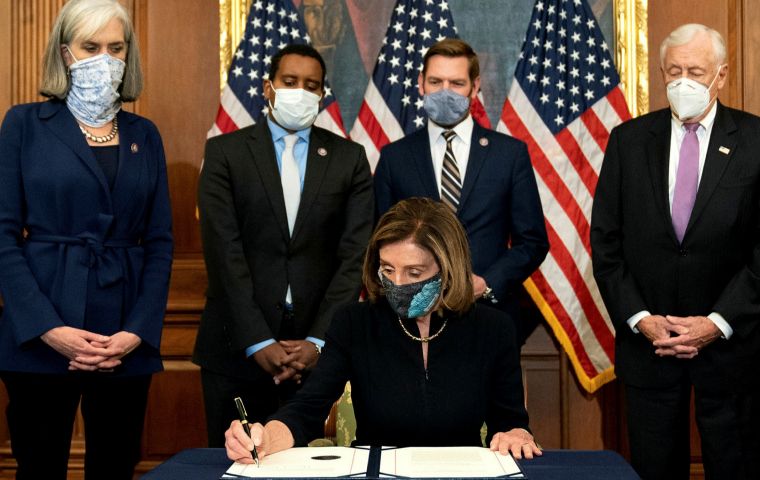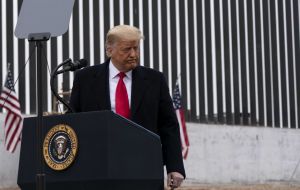 US President Donald Trump was impeached Wednesday for an unprecedented second time, facing blame for inciting an insurrection over his election loss that culminated in a deadly riot in the Capitol last week.
The impeachment resolution passed the Democratic-controlled House of Representatives with a 232-197 vote, with 10 Republicans breaking ranks to support it. The move took place just a week before the 74-year-old Republican president's term will end.
The case will be sent to the Senate for a trial to decide whether to remove Trump from office. Senate Republican leader Mitch McConnell, however, will not reconvene the Senate for the trial before Democrat Joe Biden is sworn in as president on Jan. 20, citing precedents and rules.
But a trial, even after Trump's departure from office, could be meaningful for Democrats and some Republicans as the impeachment process can open up the possibility of stripping him of his qualification to run in the next presidential election in 2024.
Trump was first impeached in December 2019, charged with abusing the power of his office and obstructing Congress over his dealings with Ukraine that were seen to have been aimed at boosting his re-election bid. He was later acquitted in the Republican-controlled Senate.
The charge Trump faces this time is "incitement of insurrection." He has so far refused to accept any blame over his role in inciting the attack on the Capitol.
In a video message posted on the White House Twitter account later Wednesday, the president did not mention his latest impeachment but emphasized that he "unequivocally" condemns last week's violence.
He also called for tempers to be calmed amid concerns of further armed demonstrations in Washington and across the country in the days leading up to Biden's inauguration.
"No true supporter of mine could ever threaten or harass their fellow Americans. If you do any of these things you are not supporting our movement, you're attacking it, and you are attacking our country," he said in a restrained tone.
On Jan. 6, a pro-Trump mob, including many who were armed, swarmed the Capitol while Congress was engaged in a process to certify Biden's win in the November election. Intruders violently clashed with police, smashed windows and ransacked offices.
Earlier that day, Trump had spoken to thousands of his supporters in Washington, reiterating his baseless claims of election fraud and urging the crowd to march to the Capitol and "fight like hell" to prevent their country from being taken over "illegally."