Biden pledges to vaccinate 100 million Americans in the next 100 days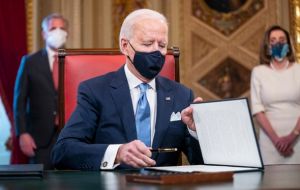 Total deaths from the coronavirus pandemic in the United States "will likely top 500,000 next month," President Joe Biden warned on Thursday, as he explained his government's plan to curb the toll the disease has been taking on Americans.  
Holding up his 198-page plan in front of a group of reporters, flanked by Vice President Kamala Harris and his top medical adviser on the coronavirus, Dr. Anthony Fauci, before signing 10 executive orders related to it.  
The president's goal is to vaccinate 100 million Americans within the next 100 days. Some 100 federally supported community vaccination centers are to open across the country within the next month.  
"This will be one of the greatest operational challenges our nation has ever undertaken," noted Biden.  
After he signed the orders, which include requiring international travelers heading to the United States to produce proof of a negative COVID-19 test, Biden was asked by a reporter if his goal of 100 million shots in 100 days is high enough.
"When I announced it, you all said it's not possible. Come on, give me a break, man," the president responded testily. "It's a good start — 100 million."  
Fauci later told reporters during a White House briefing that "it's quite a reasonable goal."
Sixteen million Americans have been inoculated so far — fewer than the 20 million that health officials in the administration of former President Donald Trump had promised to have vaccinated by the end of December.  
To protect travelers, Biden is mandating mask-wearing in airports and on certain types of public transportation, including many trains, airplanes, maritime vessels and intercity buses. On Wednesday after assuming power, he also ordered mandatory face mask-wearing on U.S. government property.  
The orders Biden signed on Thursday are buttressed by his request to Congress for US$ 1.9 trillion in new coronavirus relief aid. 
White House press secretary Jen Psaki said Biden and Harris will "be quite involved" in the days ahead with lawmakers of both parties to push the legislation.
Starting next month, the Centers for Disease Control and Prevention is to make vaccines available to local pharmacies. Currently, most shots have been administered at local government centers or given to the elderly at nursing homes.