Bolsonaro sends Biden a three page letter calling for deeper bilateral relations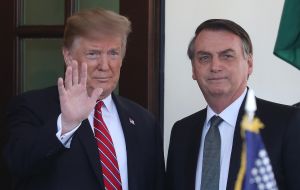 Striking a conciliatory tone, Brazilian president Jair Bolsonaro made public a three-page letter congratulating president Joe Biden and calling for the two nations to deepen ties, including a free trade agreement.
Bolsonaro, a declared admirer of former president Donald Trump, was one of last world leaders to recognize Biden's victory, and amplified the 45th president's baseless allegations that the election had been rigged.
"I've long been a huge admirer of the United States," Bolsonaro wrote in the letter, a copy of which was posted on his Twitter account hours after Biden took oath of office. He added that it was his administration that "corrected" public sentiment in Brazil toward to the US.
While suggested by Brazil's ambassador to Washington Nestor Forster, the document was designed by Foreign Minister Ernesto Araujo and drafted by a third official before being revised by both the foreign ministry and the presidential palace.
Relations between Bolsonaro and Biden have been erratic, the Brazilian leader slammed Biden after he criticized deforestation in the Amazon, labeling it a "sign of contempt." But in the letter he said he was hopeful Brazil and the U.S. could work together on "protecting the environment."
Bolsonaro's admiration for the US was not only limited to former president Trump, but mainly because following on almost three left wing administrations running, (2003/2016) Brazil is currently seeking a free-trade agreement with the U.S, and its continued sponsoring to join the Organization for Economic Co-operation and Development.