Uruguayan president will share lunch with Bolsonaro in Brasilia on Wednesday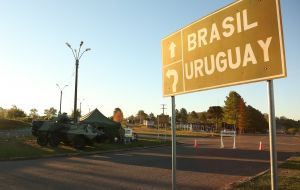 Uruguayan president Luis Lacalle Pou will be flying to Brasilia on Wednesday to share an informal lunch with his peer Jair Bolsonaro, his first overseas trip since taking office, but also a clear balancing act of the country's foreign policy regarding its two huge neighbors.
In effect last November the Argentine president Alberto Fernandez flew to the Uruguayan presidential residence in Colonia, when he shared a private barbecue with Lacalle Pou and addressed a bilateral agenda..
The Wednesday lunch in Brasilia was coordinated by the foreign ministers, Francisco Bustillo and Ernesto Araújo and takes place at a special moment, when Brazil has started to vaccinate the population of several integrated urban areas along the Uruguayan/Brazilian border, which have been a focus of Covid-19 positive cases, and has forced Uruguay to establish sanitary and military contention rings to impede contagions.
"It's a good instance for an exchange of ideas to advance in bilateral relations and address an agenda of issues. The presidents will analyze the international situation, integration, trade with an idea to continue growing together and thinking of our international standing", said Uruguay's minister Bustillo.
The sanitary situation will be a priority, particularly along the open border between the two countries. Brazil is immunizing along the border with the Sinovac vaccine, which is produced in Sao Paulo, and a batch of which Uruguay has purchased but directly from manufacturers in China. But delivery delays both in Sao Paulo and in China have complicated the vaccination timetable both in Brazil and Uruguay.
Another issue is trade, and the promulgation of the Mercosur/EU trade agreement, which Uruguay and Brazil support, Argentina is reluctant to approve, while several EU countries are questioning the Brazilian deforestation in the Amazon, as well as farm policies, and conditioning their votes.
When Lacalle Pou took office he emphasized that promoting markets for Uruguayan produce would be one of this priorities, but the pandemic forced his administration to change priorities. The original round of strategic visits included Argentina, Brazil and Paraguay, Mercosur members, and world powers, United States, China and Brussels the seat of the EU. Uruguay's main trade associates are China, Brazil and the US.