Falklands planning climate adaptation strategy to help farmers combat the lack of water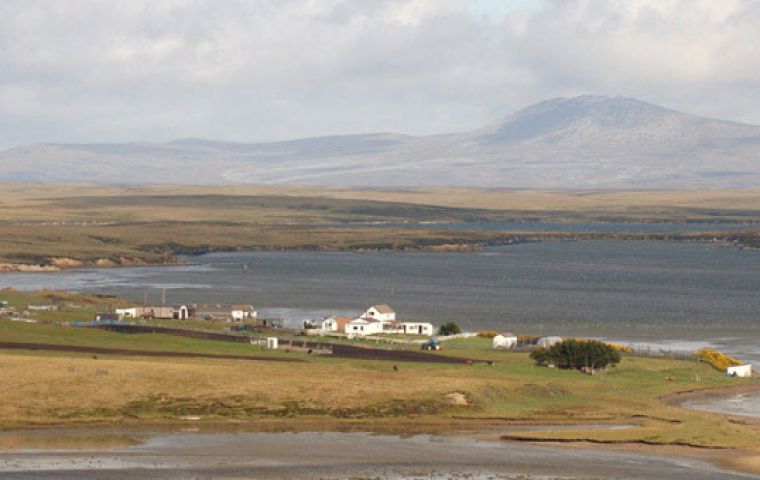 Lafonia, the lower half of East Falklands is suffering from a drought and this has an impact for farmers and rural activities, a situation that was pointed out by Goose Green manager Keith Alazia when he revealed that water sources "have all but dried up around Lafonia."
Falklands' weekly Penguin News contacted Mr Alazia after he published images of Laguna Isla pond completely dry through evaporation. Lafonia is one of the driest areas of the Falkland Islands with precipitation in the range 273–485 mm a year, but this was the first time the huge pond had dried out he said. He said water sources to the north of the settlement had also gone with, "only big ditches flowing still."
Mr Alazia said the gang was creating ditches to enable stock to access water and not fall in and become trapped.
He said some people claimed this would dry the land out more as water would flow away more quickly: "This is true to a certain extent but a few things we are noticing. We only remove one side of the ditch and don't straighten them either. We keep the ditch the same shape as it was. After only one-year reeds and weeds and other vegetation that could not grow in the ditches because of lack of sunlight are now growing fast and holding up the water again so the ditch is holding the water back like before it was made safe. That is a result in my book."
Regarding rainfall he said: "I do think we are getting the same amount of rainfall but the mean wind speed seems more and as Mr, David Attenborough has explained to us every one degree rise in temperature equals 7% more evaporation."
He added: "I've dug sump holes in many camps to fill up over winter, to last the summer a bit longer. For sure it's an issue. Winters are not as bad as they were either meaning the water table is not topped up sufficiently for the coming summer."
Drought conditions around the Falklands are not uncommon particularly on small islands but reports on the mainland have been increasing in recent years.
Penguin News contacted Agronomy Advisor Dr Matt McKnee at the Department of Agriculture who is well aware of the problems being faced by some farmers around the Falklands.
He said: "When I visit farmers there is a lot of anecdotal evidence that things are changing; that land is drying out… if you look to South America that trend is also there. So we can look to somewhere else and think about what it might look like here. So there are some concerns around that."
He added: "I think as a department we really do need to have a climate adaptation strategy in place and there are calls for that from farmers and I'd certainly like to see government rally behind that."
He explained that in relation to pastures, primarily fine grasses the major growing season has now moved from November to January to February according to farmers, "So there's some anecdotal evidence of a shift in the way grasses are growing…"
In terms of rainfall, "from a scientific point of view if indeed rainfall patterns are changing we would expect some of the issues like water repellent soil to become more acute."
He said even if the Falklands was getting the same amount of rain it was likely coming down in shorter bursts: "So some of what farmers are seeing in the drying out of land may not be related to rainfall, it may in fact be related to the distribution of rainfall. And this can be shown up in the way the soil accepts water. So it's also about our soil conditions and our grazing."
Dr. McKnee said there were all sorts of ways people on farms were trying to manipulate the hydrology to improve their pasture or conditions and some of the big opportunities could potentially be certain types of clays that could be mixed with top soils (blue and river clay). This would, "improve water holding capacity," so the Department of Agriculture were doing tests on their soils so they could, "evaluate those options."
Asked what else could be done he said: "there's multiple issues here for soils to be healthy, they need multiple inputs back into them and we largely have areas in the Falklands where the animals prefer and not a lot of nutrition has gone back into those areas and they are the wetter areas anyway".
"So one of the things definitely is to get control over our stock and make sure those areas that are wet are being grazed effectively. Because if we don't get a handle on those areas then obviously there will be more and more reliance on them and that will put more and more pressure on them to the point where maybe some of those areas that are the engine room of these farms are troubled. So we're really encouraging rotational grazing systems where people have the ability to manage stock in the engine room of the farms."