Swindler Bernie Madoff dies in US prison aged 82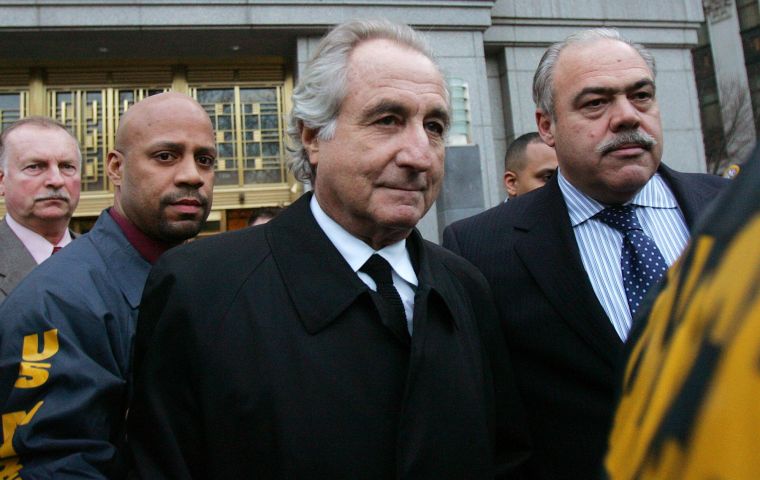 Convicted Ponzi-schemer Bernard Madoff, a former chairman of the Nasdaq stock market who lured many millionaires to invest in his amazing deals which turned out to be losses, has died in a US federal prison at the age of 82, it was announced.
Madoff had been sentenced to 150 years in jail for his deeds, which included victims such as actors Kevin Bacon, Kyra Sedgwick and John Malkovich, baseball Hall of Fame pitcher Sandy Koufax, broadcasting legend Larry King and a charity associated with director Steven Spielberg.
Last year, Madoff's lawyers filed a request to get the 82-year-old released from prison in the Covid-19 pandemic, saying he had suffered from end-stage renal disease and other chronic medical conditions. The request was denied.
Madoff had been suffering from chronic kidney failure and several other medical ailments. He had been held at a federal prison in Butner, North Carolina, after being sentenced in June 2009 for engineering a fraud estimated as high as 64.8 billion US dollars.
But the exact size of the scam remains a mystery, since a court-appointed trustee has only recovered barely over 13 billion of an estimated 17.5 billion that investors put into Madoff's business, although at the time of his arrest fake account statements were telling clients they had holdings worth around 60 billion.
For his trial, Madoff had to wear a bulletproof vest to court out of fear one of his victims would not be happy enough to see him only jailed.
"If I could interview one person on the planet, it'd be Bernie Madoff and the obvious [question] would be 'Why? Why did you do this to people?'" King said at the time.
Madoff pleaded guilty in March 2009 to securities fraud and other charges, saying he was "deeply sorry and ashamed."
After several months living under house arrest at his $7million Manhattan penthouse apartment, he was led off to jail in handcuffs to scattered applause from angry investors in the courtroom.
"He stole from the rich. He stole from the poor. He stole from the in between. He had no values," former investor Tom Fitzmaurice told the judge at the sentencing.