"Green pass" being studied to give vaccinated people more freedoms in Uruguay; does it work?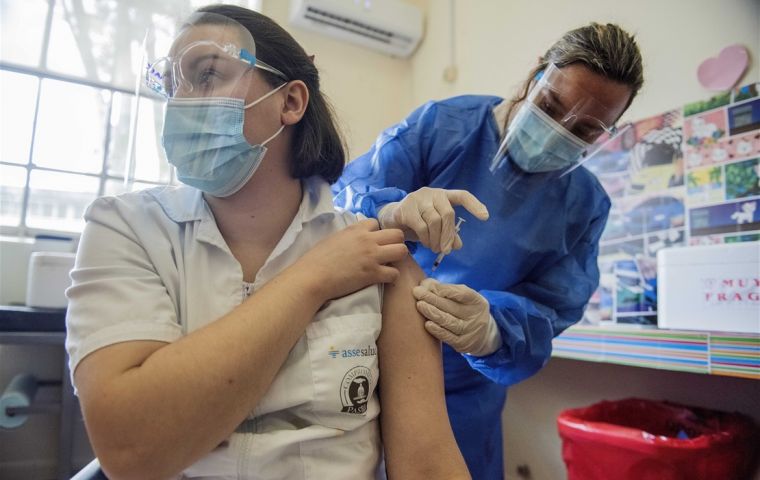 Top-notch presidential advisors in Uruguay in matters concerning the coronavirus pandemic are considering the feasibility of a "vaccine passport" like the one used in Israel, it was reported Sunday.
Health Ministry officials, the President's Group of Honorary Advisors (known as GACH) and the Government's Agency for Electronic Information and Knowledge Society (known as AGESIC) are evaluating the use of a so-called "green pass," following the encouragement from tourism operators and local mayors.
Tourism Undersecretary Remo Monzeglio admitted the green passport "is being studied by Public Health and the Honorary Scientific Advisory Group (GACH) and we will too."
Those in favour of the idea maintain it is the gateway to many of the activities that can be carried out today in Israel. It allows people to eat inside a restaurant (those who do not have it should sit at the tables outside), stay in hotels, go to clubs, cinemas, theatres, cultural or religious events, or even participate in weddings.
The green pass is a certificate available for download on smartphones.
Israel leads the world's vaccination campaign, having administered at least one dose to 60% of its nine million inhabitants, with 53% having received both doses of the Pfizer version. The rate of infections and deaths has been reduced to a minimum and the mandatory earing of a mask has been lifted.
Other countries have taken similar steps: Denmark implemented the "corona pass", which allows entry to restaurants, museums, libraries, gyms, hairdressers, cinemas and theatres. It is not necessary for other stores and shopping malls. The United Kingdom has also announced a health passport to enter football matches and events in closed places, while the European Union is developing a "green vaccination certificate" to travel between countries without the need for quarantines or swabs.
Uruguay is among the five countries with the most deaths per million inhabitants in the last seven days, surpassing Brazil in South America, according to the Our World in Data site. But, on the other hand, it is also one of the nations where vaccination advances more rapidly, 30% of the population has already received the first dose.
Health Minister Daniel Salinas has been quoted as saying his country's vaccination plan will have better results than Chile's, which is believed to be leading the immunization efforts in the region.
Salinas compared the vaccines that each country is using and at what age groups and he concluded that "we will do better in the overall result." He pointed out that Chile is using mainly the Sinovac vaccine, including for people over 70 years of age, while Uruguay gives the same group the more effective Pfizer-Biotech antidote.