Prince William and Harry seen chatting during Duke of Edinburgh's funeral
Monday, April 19th 2021 - 06:49 UTC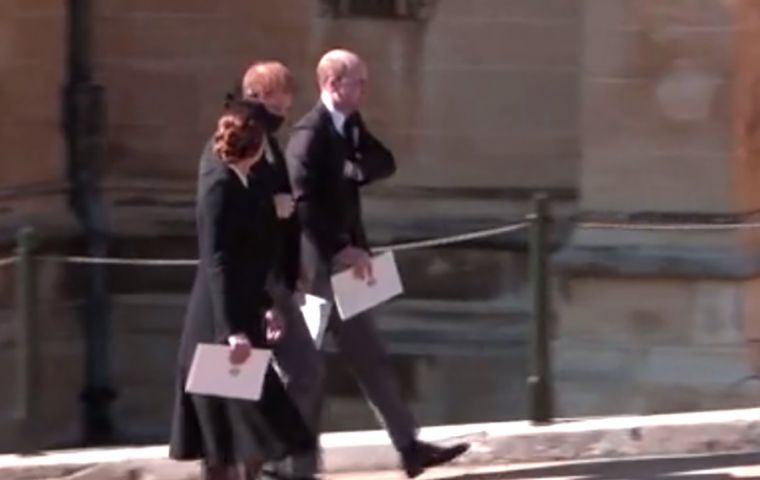 The over 13 million TV viewers watching Prince Philip's funeral were surprised to see some sort of reconciliation between Prince William and Prince Harry, two brothers who have distanced themselves from one another.
Despite all the planning and all the covid-19 restrictions, Queen Elizabeth II's eldest son and heir to the throne, Prince Charles, sent away the limousines that were to bring the royal family from the Galilee porch of St George's Chapel back to Windsor Castle's private quarters, which created the opportunity ... for a walk.
After that, both Prince Charles' sons, Prince William, Duke of Cambridge and Prince Harry, Duke of Sussex were seen together, chatting, joined by with the Duchess of Cambridge. Prince Harry's wife Meghan did not attend the funeral on advice from heer doctors since she is expecting the couple's second child.
The audience for the ceremony in which the Queen's husband and Prince Consort was laid to rest during an intimate service in the grounds of Windsor Castle surpassed the Queen mother's funeral 10.4M viewers in 2002 but was nowhere near Princess Diana's 32 million mourners in 1997.
BBC One accounted for the largest chunk of the audience who were able to watch a Queen in mourning, masked and sitting alone, during her first public appearance since the death of her husband of 73 years. Having always walked two steps behind his wife on official engagements, Saturday's funeral saw the monarch follow her husband as she joined the rear of the procession in the state Bentley. Her vehicle paused briefly at the side of his customised Land Rover hearse and she was able to look upon the duke's coffin in place, draped in his personal standard, and surmounted by his naval cap and sword.
The service for Prince Philip incorporated impressive military spectacle despite Covid-19 restrictions, which limited mourners to 30, with no wake.