Two-way travel bubble opened between New Zealand and Australia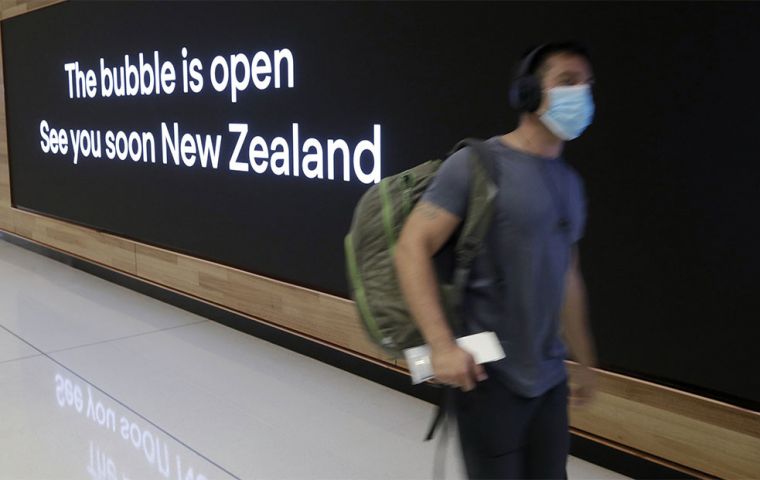 Travel between Australia and New Zealand is once again quarantine-free as of this Monday, after measures in both countries against the spread of the coronavirus pandemic yielded results that made this achievement possible.
Australia had previously allowed New Zealanders to enter without quarantine and is now being reciprocated, amid elation and relief, particularly among families who have been separated and struggling tourist operators as well.
It marked the first, tentative steps toward what both countries hope will become a gradual reopening to the rest of the world.
"The bubble marks a significant step in both countries' reconnection with the world and it's one we should all take a moment to be very proud of," New Zealand Prime Minister Jacinda Ardern said in a news release from Australian Prime Minister Scott Morrison's office.
Under the new rules, passengers shall not be allowed to travel if they had a positive Covid-19 test in the previous 14 days or present flu-like symptoms. They must also have spent 14 days before departure in either Australia or New Zealand.
"Today's milestone is a win-win for Australians and New Zealanders, boosting our economies while keeping our people safe," Morrison said in the news release.
Hundreds of passengers crowded the international departure terminal at Australia's Melbourne Airport early Monday amid long check-in lines.
"This is really the first day in over a year that Australians get to dust off their passports and travel overseas," Melbourne Airport Chief of Aviation Lorie Argus said. Melbourne Airport said it will welcome 19 trans-Tasman flights on Monday, which is equal to approximately 4,000 seats, according to a news release.
Each week, around 140 services will operate between Melbourne and New Zealand, and the number will rise to 180 weekly flights by the end of May, the release added -- around 70% of pre-Covid levels.
Melbourne Airport now offers non-stop flights to four New Zealand destinations: Auckland, Christchurch, Wellington and Queenstown.
The bubble is expected to help drive economic recovery from the pandemic for both countries -- especially in the travel and tourism sectors, Morrison and Ardern said.
Air passengers from New Zealand usually account for around 18% of all arrivals in Australia annually, according to the release. In 2019, New Zealand travellers spent 1.6 billion Australian dollars ($1.2 billion) on travel and tourism in Australia.
The idea of a travel bubble between Australia and New Zealand had been talked about for months but faced setbacks because of several small virus outbreaks in both countries, which were eventually stamped out.
To mark the occasion, Wellington Airport painted an enormous welcome sign near its main runway and Air New Zealand ordered some 24,000 bottles of sparkling wine, offering a complimentary glass to adult passengers.
Air New Zealand's Chief Operating Officer Carrie Hurihanganui said the carrier had previously been running just two or three flights a day between the two countries but that jumped to 30 flights on Monday carrying 5,200 passengers.
She said the day marked a turning point and people were excited. "You can feel it at the airport and see it on people's faces," she said.