Former US Vice President Walter "Fritz" Mondale dies aged 93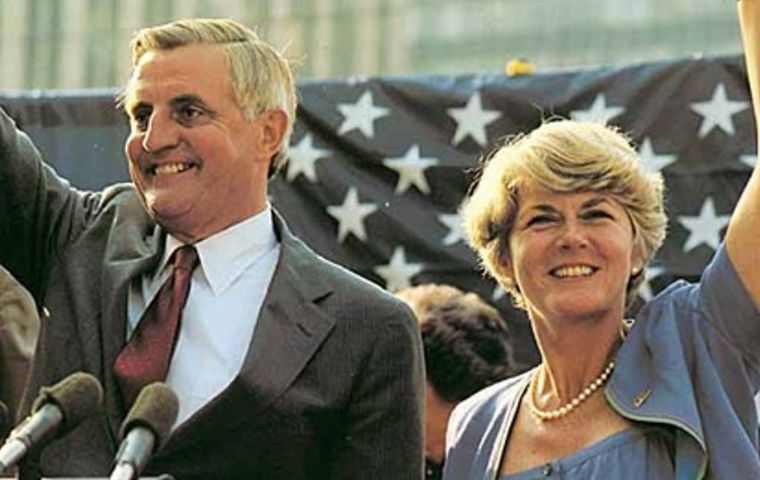 Former US Vice President Walter Mondale (1977-1981) has died in Minneapolis, at the age of 93, his family confirmed. No cause was given.
The liberal Mondale served under President Jimmy Carter but lost his personal attempt at the Oval Office in 1984 by a landslide to the incumbent Ronald Reagan, in a ticket that featured a woman for the first time for the VP spot - Geraldine Ferraro.
Ferraro's nomination came back under the spotlight during last year's election because many had mistakenly slated Kamala Harris as the first woman to run for vice-president.
Mondale had in 1984 bluntly warned voters to expect a tax increase if he won. So it was no surprise when he carried only his home state and the District of Columbia. He was said to be "a representative of the best of the New Deal, and he ran with the assumption that the tax-paying middle class would continue to pay for all the good things we did in the 1930s and 1960s."
As a Senator, Mondale -known simply as Fritz to both friends and foes- was a spokesman for racial justice and an opponent of the Vietnam War.
Mondale was respected as much for his dignity in defeat as for his sense of triumph in victory. He always credited his upbringing in the "dinky towns'' where his father served as a Methodist minister for the values that would shape up his life. "The values I learned from my parents stayed with me," Mondale said in 2013. "It was the idea of service, of doing justice, loving mercy and walking humbly. I heard those words — doing justice, loving mercy, walking humbly with your God — all the time in my youth, and I realized a few years ago that that was what kept me going in my life. It was what I was expected to do."
In his youth, he was known as "Crazy Legs," a reference to his prowess as a football running back. He worked his way through Macalester College in St. Paul (later finishing at the University of Minnesota) and as a young man, he was marked by speeches he heard from two midwestern firebrands, former Vice President Henry A. Wallace of nearby Iowa and Mayor Hubert Humphrey of Minneapolis, who would later become Vice President in 1965 under Lyndon B. Johnson.
The tie with Humphrey would last with Mondale to his last days. "He was an enormous influence on me," Mondale said in the interview for this obituary. "We came from different towns but had the same backgrounds. He helped me shape myself for what I was for. He showed what energy and persuasiveness and a willingness to touch people and stay connected would do. He showed me what you could do with life."
Though Mondale won election as attorney general on his own (later in 1960) and to the Senate (in 1966) he would be labelled by critics as a serial appointee, catapulting into ever higher office under favours from his mentors. That claim appeared again after he was selected by Jimmy Carter in 1976 to be his vice-presidential running mate.
Mondale was co-chairman of Humphrey's unsuccessful 1968 presidential campaign and then, eight years later, stood down from a White House campaign of his own.
Mondale was an unusually active vice president and unlike so many of his predecessors in the office, including Richard Nixon, Johnson, and Humphrey, he was a full partner with the president, with an office in the West Wing, a weekly meeting with the president, and the ability to walk into the Oval Office when he deemed necessary. This set a precedent that would enable Albert Gore Jr., Dick Cheney and Joseph R. Biden Jr. to play important roles beyond presiding over the Senate, the only vice-presidential role outlined in the Constitution.
Unusually active, too, was Mondale's wife, Joan, who was drawn to the visual arts the way her husband was drawn to the political arts. She became known as "Joan of Arts." Joan Mondale died in February 2014.
In 1993, Mondale was appointed by President Bill Clinton to become US Ambassador to Japan. Once back in the United States, he reported to his Minneapolis law office almost every day until he was well past 90.