Thunberg donates € 120,000 to WHO, slams Bolsonaro for his approach at covid-19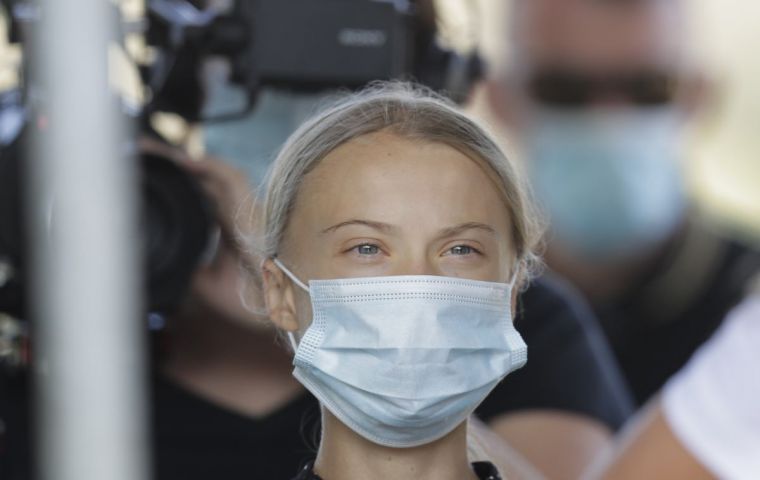 Swedish environmental activist Greta Thunberg has donated € 120,000 to the World's Health Organization (WHO) to "buy anti-covid-19 vaccines, as part of the global effort for equitable access to vaccines for those most at risk," it was announced.
Thunberg questioned the fact that there are young people vaccinated in developed countries and people within risk groups in poorer ones who have not been immunized and pointed fingers at Brazil's President Jair Bolsonaro, who in her view "failed to assume the responsibility to protect present and future living conditions for mankind."
The activist's donation will go to the WHO's Covax system to fight "the tragedy of vaccine inequality." In low-income countries, only one in five hundred people on average received one of the available COVID-19 vaccines, while in rich countries one in four people are already fully or partially immunized, according to a WHO report.
The Covax system is a public-private partnership between WHO, the Vaccine Alliance (GAVI) and the Coalition for Epidemic Preparedness Innovations (CEPI) to ensure equitable distribution of immunizers against COVID-19, especially in nations with a greater economic vulnerability that cannot compete with the richest countries when negotiating with pharmaceutical companies.
"The international community must act more to alleviate the tragedy that is inequality with vaccines," Thunberg was quoted as saying. "We have means at our disposal to correct the enormous imbalance that exists in the world today in the fight against COVID-19. As with climate change, we must help the most vulnerable first."
Thunberg, a Swedish national who lives in Stockholm, said there will be people who will be very upset if their governments share their vaccines. "Of course I want to have a normal life again and all the people I know want the same, but we need to act with solidarity and using common sense. The only moral and correct decision that can be made is to give priority to the most vulnerable, no matter where they live, "she insisted.
Regarding the distribution of vaccines to poorer countries, Thunberg has pointed out that this is a problem "that has to do with the international community and with the developers of vaccines."