World Penguin Day once again celebrated in times of Covid-19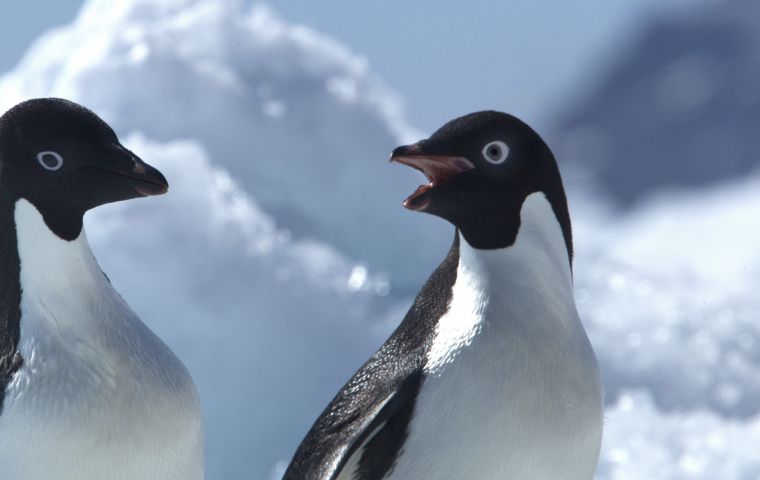 This Sunday, April 25, is World Penguin Day's celebration, a creation by researchers at the McMurdo Station, an American scientific center on Antarctica's Ross Island to mark every year's migration of Adeline penguins to the north.
It is the second year in a row that this wildlife awareness day is shadowed by a much more significant event worldwide, such as the coronavirus pandemic, as if history was to repeat itself from when Ernest Shackleton managed to bring home safe his entire crew of the doomed Endurance Antarctica expedition in 1915 -which earned him the "Sir" title- much to the indifference of a contemporary World War I British society which, as Margot Morrell and Stephanie Capparell put it, "preferred to pay tribute to those who sacrificed their lives for the flag."
Adeline penguins, one of the smallest and most widespread variant of these birds, begin their migration around this day each year to have better access to food during the winter months when the sea ice expands and then, during the summer, make their return to the coastal beaches of Antarctica to build their nests.
With climate change shrinking the sea ice, which impacts directly on the penguin's habitat, scientists decided to create a day to raise awareness of the dangers the around 17 species known of penguins are facing. In a recent report, 10 of them have been deemed endangered or vulnerable by the International Union for Conservation of Nature (IUCN) and 3 are considered near threatened.
As soon as the last blows of Summer warmth (by Antarctica's relative standards) fade away, Adeline penguins follow the sunlight to their winter foraging ground and then return the following spring – a roughly 13,000-kilometer trip. Other native breeding penguin species (emperor, king, chinstrap, gentoo and macaroni) soon follow suit.
For all penguin species, life depends on sea ice because their main food source, krill, lives underneath it. More importantly, sea ice provides a resting ground for penguins during their hunts and a main winter foraging ground for migrating penguins. Without sea ice, penguins must swim farther and longer to find food with no place to rest. Studies have shown that in the last 50 years, the Antarctic's mean temperature has increased by over 2 degrees Celsius, wich is tantamount to a lot less ice.
All wild penguins live in the Southern Hemisphere and are instinctively visualized in icy environments. But there is always an exception: the Galapagos penguin might even venture into the Northern Hemisphere on especially long feeding trips. And the first bird actually called a penguin was the now-extinct Great Aukfound in the North Atlantic.
Despite all covid-19 travel restrictions, a wildlife-sighting cruise departing from Puerto Madryn on October 25 and arriving at Ushuaia on November 14 passing through Port Stanley Falkland and Grytviken in South Georgia among other South Atlantic sites of interest is being advertised on the internet with tickets selling for US $ 12,600.