Brazilian airline Gol reports millionaire losses due to travel restrictions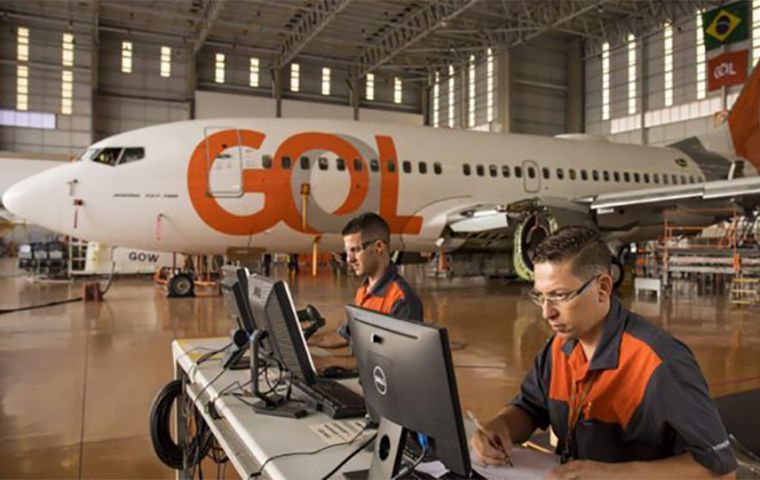 Brazilian airline Gol Thursday reported losses of US $ 473 million for the first quarter of 2021 due to the travel restrictions effective worldwide as a consequence of the Covid-19 pandemic.
The company Thursday released a statement which indicated that turnover had contracted 50.2 per cent compared to the same period last year (272 million dollars) due to the fall in demand caused by a second wave of the coronavirus.
Passenger revenue declined 51.8 per cent to $ 246 million, while freight revenues fell 26.7 per cent ($ 26 million).
Between January and March, Gol reduced its daily operations by 10 per cent compared to December and, compared to the first quarter of 2020, it carried only 4.5 million passengers, a 46% decrease.
For the second quarter of 2021, the airline expects revenue to decline approximately 35 per cent from the quarter ending in March. Gol is currently operating a fleet of 63 aircraft, around four times more than those in the same quarter of 2020.
Gol forecasts to end the second quarter with about $ 785 million of total liquidity and $ 2.770 million of adjusted net debt.
CEO Paulo Kakinoff trusts that the national vaccination plan against Covid-19 "will positively impact the normalization of demand for air transport in Brazil."
But while coronavirus has impacted negatively in most if not airlines worldwide, a new airline in the United States: took to the skies this week.
Avelo's maiden flight took off from Hollywood Burbank Airport in California and landed at Sonoma County Charles M. Schulz Airport in Santa Rosa, the gateway to the state's wine region.
Avelo CEO Andrew Levy explained that "The first flight represents much more than a 90-minute trip from Los Angeles' iconic Hollywood Burbank Airport to Sonoma County Airport, we are embarking on a new era of choice, convenience, and low fares every day."
The new budget airline will offer eleven new destinations that are not served from Burbank with fares starting at USD 19 per segment, replicating a model of sticking to secondary cities that maintain low costs and less traffic.
Avelo highlights its operation from the Hollywood Burbank airport as more advantageous for passengers by having shorter routes, faster baggage deliveries, and less crowding.
This week, two more destinations will join its network from Burbank: Tri-Cities Airport in Pasco, Washington on Thursday the 29th and the Bozeman International Airport, Montana, on Friday the 30th. Avelo plans to serve eleven cities by the end of May.