Former health minister: Bolsonaro wanted chloroquine brochure re-written to have it used against covid-19
Wednesday, May 5th 2021 - 09:08 UTC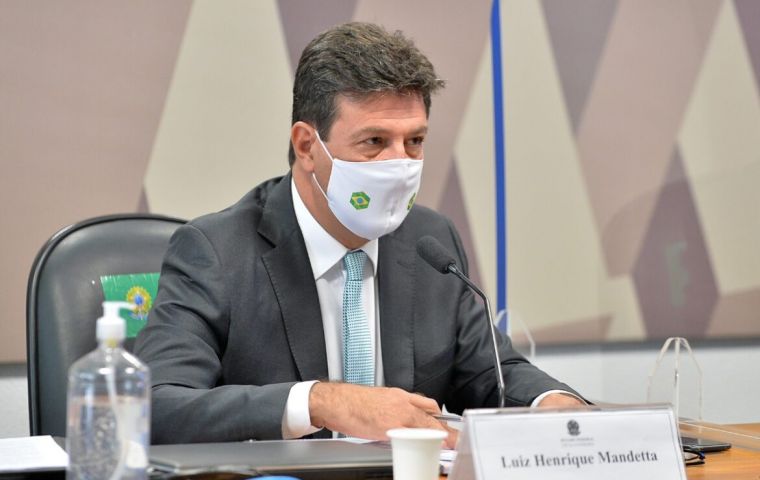 Former Brazilian Health Minister Luiz Henrique Mandetta Tuesday told the Parliamentary Commission investigating the government's handling of the coronavirus pandemic that President Jair Bolsonaro tried to change the chloroquine brochure that comes along with the medicine so that it could be used against covid-19.
Mandetta told the Senate that Bolsonaro had at the beginning of the pandemic set up a parallel committee under the command of his children to make health decisions.
According to Mandetta, Bolsonaro intended to have the chloroquine prospectus changed by decree so that the drug could be used, without scientific verification, on a massive scale against covid-19.
Mandetta was the first witness to appear before the Senate's Parliamentary Commission of Inquiry (CPI) appointed to investigate Bolsonaro's refusal to impose quarantines, face masks and social distancing, all measures other heads of government have taken at some point.
The former minister said that Bolsonaro summoned him to his office along with other presidential advisers. "There was an unstamped piece of paper of a presidential decree suggesting that the chloroquine brochure be changed. It was the president of Anvisa who refused" to follow his instructions, Mandetta said.
Mandetta also accused Bolsonaro of having surrounded himself with advisers led by his son Carlos who worked against the Ministry of Health's scientific guidelines, especially in terms of the recommendation on social distancing.
From very early in the pandemic, Bolsonaro trusted drugs such as chloroquine, hydroxychloroquine, annita and ivermectin as a form of treatment over the social distancing defended by the scientific community and in 2020 he was in that regard aligned with then US President Donald Trump.
Even when experts warned that these drugs were not tested for the Covid-19, Bolsonaro stood by his principles until the requests for impeachment against him piled up last March as the first patients having taken chloroquine, a medicine against malaria, needed liver transplants.
Bolsonaro imported chloroquine from the United States in 2020 and ordered the manufacture of the antimalarial drug to the Army laboratory to deliver it as part of a 'covid kit' to be distributed in the poorest communities of the country, although a proven treatment for covid-19 is yet unheard of.
Mandetta explained that Bolsonaro surrounded himself with advisers and doctors from outside the Ministry of Health who supported the theory of 'herd immunity' and 'vertical isolation', that is, to enable massive infections and barely leave those over 60 years old at their homes.
The former minister said that Bolsonaro adopted "denial" as a health policy and did not want to run an official awareness campaign about the dangers of Covid-19.
Several pro-government senators tried to mute Mandetta's statement. Coming up next before the CPI Wednesday is Mandetta's successor Nelson Teich, who lasted less than 30 days in office.
Also to appear Wednesday was General Eduardo Pazuello, Minister of Health between May 2020 until last March, but he excused himself claiming he had been close to covid infected people after being photographed walking in a Manaus shopping mall without masks, in open defiance to regulations both local and the business'.
Pazuello is expected to testify about the massacre of patients due to lack of oxygen in Manaus, Amazonas, last January.
Mandetta is regarded by many as a presidential candidate for 2022 on behalf of the non-Bolsonarist centre-right, a space he shares with the São Paulo governor, Joao Doria, and who was recently approached by the former governor of Ceará and former minister Ciro Gomes, of the Democratic Labor Party (PDT).