IATA: Air cargo down in Latin America but grew elsewhere; passenger travel still far behind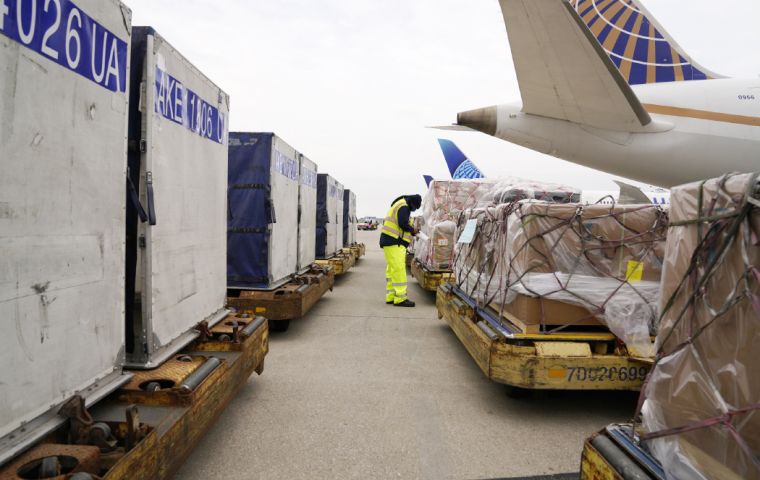 The airlines of Latin America suffered a 23.6% slump in their cargo operations in March, against the same month of 2019, the International Air Transport Association (IATA) reported Tuesday.
All comparisons are held against March 2019 figures and not against last year's because analysts have warned that taking into account the times of the outbreak of the coronavirus pandemic would most certainly yield unreliable, distorted results.
The region was the most affected globally and IATA says it is less favourable than other parts of the world, which would account for a 46% drop in capacity.
On the other hand, world markets have increased their demand for air cargo slots following the start of the covid-19 crisis. Global demand, measured in cargo ton-kilometres (CTK), increased 4.4% compared to March 2019 and 0.4% compared to February 2021. In this case, it was a further growth rate slower than the previous month, which had registered an increase in demand of 9.2% compared to February 2019. The weaker performance of the Asia-Pacific and African airlines compared to February contributed to smoother growth in March.
The capacity offered globally, measured in tons-kilometres of available cargo (ACTK), continued to recover in March, 5.6% more than the previous month. Despite this, capacity remains 11.7% below the levels before the outbreak of the coronavirus pandemic due to the grounding of passenger aircraft.
"Air cargo continues to be the bright spot for aviation. Demand reached an all-time high in March, up 4.4% compared to pre-Covid levels (March 2019). And airlines are taking all steps to find the necessary capacity, "said IATA CEO Willie Walsh. He added that "the crisis has shown that air cargo can meet fundamental challenges by rapidly adopting innovations."
Walsh insisted that "this is how it is meeting the growing demand, even as much of the passenger fleet remains on the ground." He also pointed out that "the sector needs to maintain this momentum after the crisis to boost the sector's long-term efficiency with digitization."
Meanwhile, the demand for passenger seats fell by 82.4% in March, compared to the same month in 2019, which represented a slight improvement compared to the 83.7% drop registered in February against February 2019, according to IATA's report. In return, capacity was cut down by 77.4% compared to March 2019.
All in all, passenger traffic fell in March 2021 compared to pre-Covid levels (March 2019) but increased compared to the immediately preceding month (February 2021).
Total demand for air travel in March 2021 (measured in passengers per revenue kilometres or RPK) decreased by 67.2% compared to March 2019, showing an improvement over the 74.9% decrease recorded in February 2021 compared to February 2019.
This better performance was due to gains in domestic markets, especially in China, while international traffic remained and therefore demand in March was 87.8% lower than in March 2019, a very small improvement from the 89% decline in February 2021 compared to two years ago.
The demand for domestic flights also fell 32.3% compared to pre-crisis levels (March 2019), and greatly improved compared to February 2021, when domestic traffic decreased by 51.2%.
All markets except Brazil and India showed an improvement compared to February 2021, with China being the key contributor.
"The positive momentum we saw in some key national markets in March is an indication of the strong recovery we anticipate on international markets as travel restrictions are lifted. People want and need to fly. And we can be optimistic that they will when the restrictions are lifted, " Walsh said.