Human Rights Watch warns Colombian police uses high-tech projectile launcher against demonstrators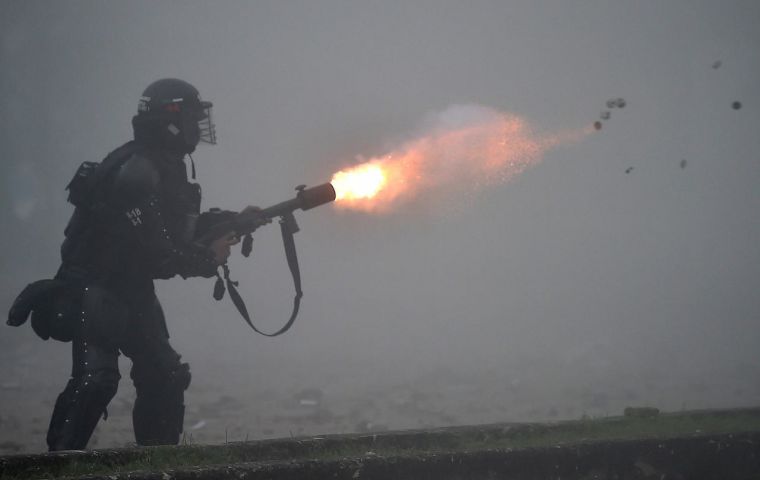 Human Rights Watch (HRW) Executive Director for the Americas José Miguel Vivanco said his organization had never seen police officers use "horizontal high-speed multiple projectile launchers" as it happens in Colombia.
Vivanco insisted he had never seen such a fierce response against demonstrations, "not even in Latin America and not in the United States."
The Chile-born Vivanco made those remarks in response to Colombia's Defense Minister Diego Molano who had said that the weapons in question are used in the event of disturbances that "affect tranquillity and security" or when violence may occur.
Molano had told the German outlet Deutsche Welle (DW)that they are used "against third parties, against other citizens with the destruction of public entities for them to dissolve."
But "in no way from those tanks can there be shots against any official or any citizen," Molano, in office since February 2021, had said.
"The explanation is very poor," Vivanco insisted also during an interview with DW, and suggested that "the defence minister is not aware of the details ... does not have much experience in security matters."
Molano was appointed to succeed Carlos Holmes Trujillo, who died at the end of January of covid-19.
Vivanco explained that the tanks are equipped with a type of "horizontal, not upward, horizontal, multi-projectile launchers that can apparently launch tear gas or stun bombs in a way that can be indiscriminate."
He added that "this seems like a highly dangerous, high-risk procedure, and I believe that this type of practice is what causes the complaints about extreme police brutality."
Vivanco had published a video showing police officers firing multiple projectiles from a tank at protesters in Colombia. "With eyewitnesses and digital video verification we have corroborated the use of tanks with multiple projectile launchers aimed at protesters," he wrote on his Twitter account, warning that it is a "dangerous and indiscriminate weapon."
The defence minister, whom Vivanco had asked for an explanation, said the recording is under investigation.
According to reporters specialized in military matters, the launcher is multiple electronic devices known as "Venom" with which Colombia's Esmad [Mobile Anti-Riot Squad] is equipped, at the cost of around 118,800 US dollars apiece.