Brazil could have bought Pfizer vaccines much earlier, but Bolsonaro ignored the offer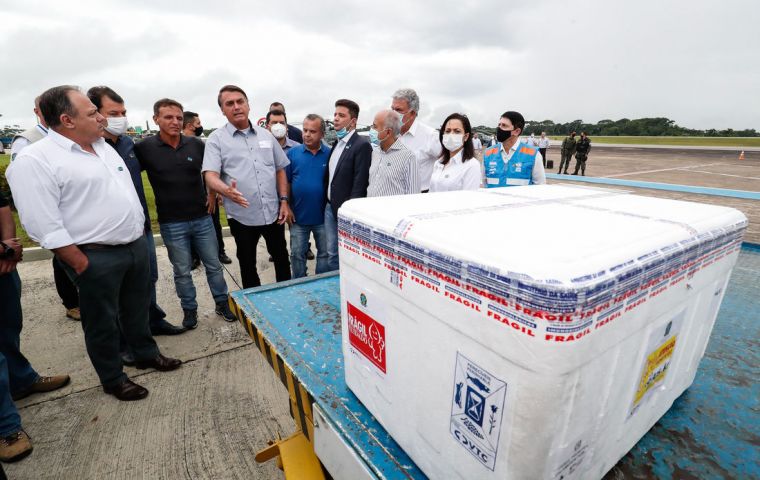 Carlos Murillo, general manager for Latin America at Pfizer Pharmaceuticals, said Thursday that three offers were made to Brazil during 2020 to supply vaccines against coronavirus, but all were rejected by President Jair Bolsonaro's government.
Murillo made those statements before the Parliamentary Investigations Commission (CPI), which is conducting an investigation into Bolsonaro's handling of the covid-19 crisis, which many anticipate could lead to his impeachment.
Meanwhile, Bolsonaro lashed out at the CPI's strongman, Senator Renan Calheiros.
The Pfizer executive told the ICC that the first "exploratory" talks with the Brazilian government were held in May and June 2020, and two letters with concrete offers were sent in August. The first shipments were due to arrive by the end of 2020.
"After these two offers (in August), our CEO sent a new communication indicating our interest in reaching an agreement (...) the communication was addressed to President Jair Bolsonaro and other authorities," Murillo said.
He added that if Brazil had signed the August 2020 proposal, it could have received around 18.5 million doses by June 2021. But the government only closed a contract with Pfizer in March this year, which "delayed" the shipment of immunisers, opposition senators said.
The information released by Murillo coincides in principle with Wednesday's testimony by former communications secretary Fabio Wajngarten, who had admitted that he acted as an intermediary in November for the government to buy the vaccines after Bolsonaro ignored Pfizer's letters as did then health minister General Eduardo Pazuello.
Thursday's session would have been uneventful had it not been for a confrontation between Senators Flavio Bolsonaro, the president's son, and Renan Calheiros, who is pushing for the president to be removed from office.
And while in Calheiros' own state of Alagoas, President Bolsonaro referred to him as a "traitor, a vagabond" who is responsible for a "crime", adding that he had "no morals". The crowd in a humble neighbourhood in Maceió, the capital of Alagoas, cheered the president and began chanting "Renan vagabond" and "Renan out".
In a speech lasting less than five minutes, Bolsonaro lashed out at former president Luiz Inácio Lula da Silva of the leftist Workers' Party (PT) and Calheiros of the Brazilian Democratic Movement, a conservative party with strong influence in the upper house.
Calheiros responded from Brasilia: "Today the president went to Alagoas to inaugurate works in an obvious provocation to this ICC, the answer to these crimes is to deepen the investigations," Calheiros said, pointing to a plaque indicating that Brazil has had more than 428,000 deaths from covid-19.
With a shipment arriving in São Paulo late Wednesday, Brazil has so far received only 2.6 million doses of the Pfizer vaccine.
Meanwhile, the National Health Surveillance Agency (Anvisa) on Thursday gave the green light to clinical trials in Brazil of Covaxin, a Covid-19 immuniser developed by Indian pharmaceutical company Bharat Biotech.
Anvisa expects 4,500 volunteers to participate in the trials: 3,000 in the state of Sao Paulo and 500 in Rio de Janeiro, Bahia and Mato Grosso.
In late March, Anvisa rejected a request to import 20 million doses of Covaxin. In April, Bharat Biotech reported that it expanded its manufacturing capacity at several facilities to produce 700 million doses annually.
The company said it can soon expand thanks to the availability of new, specially designed BSL-3 facilities, the first of their kind for manufacturing in India, as production partnerships are being explored in other countries with facilities that have previous experience in large-scale manufacturing of inactivated viral vaccines under biosafety containment. To further increase capabilities, Bharat Biotech partnered with Indian Immunologicals to develop the drug Covaxin.
CoronaVac, a vaccine from the Chinese laboratory Sinovac and produced by the Butantan Institute, accounts for approximately 75 per cent of the antigens applied in the National Immunisation Programme, which to date has inoculated 49.6 million Brazilians.