US advises against travel to Israel as violence escalates in conflict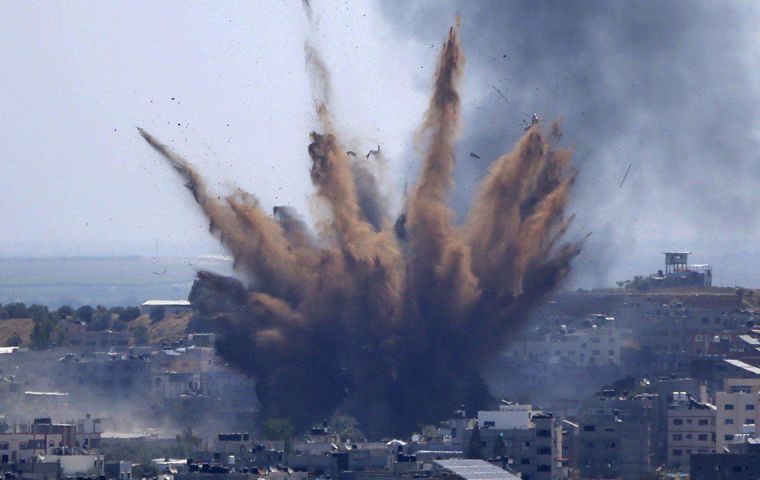 The Government of the United States has advised against travel to Israel after evacuating some 120 Pentagon staff members from the war-torn region, it was announced Thursday.
The measure by the administration of President Joseph Biden came after four days of rocket bombardments by Hamas against different cities and the ensuing defensive response plus deployment of land troops to the area targetting the terrorist group in the Gaza strip.
The United States Department of Defense Thursday evacuated about 120 staffers Thursday as a precautionary measure in light of the ongoing violence the Israeli Defense Forces of Israel started ground operations.
The Pentagon officials were in Israel to plan a future joint exercise, and although they were to withdraw towards the end of the week, the departure was moved forward, Pentagon spokesman Rear Admiral John Kirby explained.
In addition, the State Department on Thursday urged US citizens to "avoid travelling to Israel." The travel warning level, which had been lowered in recent weeks as the health situation improved, was raised from the second to the third notch of four.
"Avoid going to Israel because of the armed conflict and civil unrest," the State Department wrote in its new warning.
The US government more strongly recommends not travelling to the Gaza Strip due to "terrorism, civil unrest and armed conflict," as well as to the West Bank, out of health concerns.
For the Palestinian Territories, the warning level is the maximum.
The Pentagon chief, General Lloyd Austin, discussed the situation on Wednesday with Israeli Defense Minister Benny Gantz.
At least 1,750 rockets were launched randomly by Hamas towards Israeli cities. In return, Israel has responded with airstrikes and missiles, in addition to summoning some 9,000 reserve soldiers for a ground operation against Hamas targets at a scale yet unknown.
On Wednesday, the United States announced that it will send the State Department's Deputy Undersecretary for Palestinian and Israeli Affairs, Hady Amr, to the Middle East, and called on Israel to do "everything possible" to avoid civilian casualties.
In a press conference, US Secretary of State, Antony Blinken, stated that Amr will travel "immediately" to the region to mediate in the conflict and meet with Israeli and Palestinian leaders. "In particular, he will ask on my behalf and behalf of President (Joe) Biden for a de-escalation of violence," Blinken said.
The United States is "deeply concerned about the violence on the streets of Israel," Blinken said Thursday. Jews and Palestinians "deserve to participate without fear of violence in upcoming celebrations" linked to the end of Ramadan for Muslims and the Jewish holiday of Shavuot.
The secretary of state again called for an end to the rocket attacks by the Palestinian Islamist movement Hamore on Israeli territory and defended Israel's right to defend itself.