Colombians march against hosting Copa America amid social unrest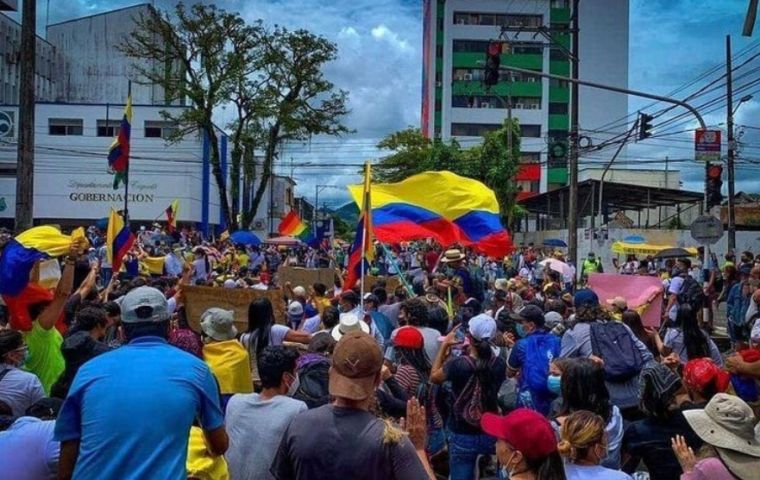 Dozens of Colombian fans gathered Tuesday in front of the headquarters of the Colombian Football Federation to demand that the Copa America is not held in the conflict-ridden country, where over 40 deaths have been recorded over the last three weeks.
«The ball cannot cover the politics and violent scenes that are being disputed today. We football fans get tired, we are going to unite with the people so that the Copa America does not take place in Colombia," Jordán Santiago, leader of the Yellow Fever organization, told AFP.
Santiago and fans of America, Millonarios and other clubs in the country demonstrated to the rhythm of drums in front of the headquarters of the Colombian Football Federation. The protesters came dressed in the colors of their teams or of the national squad.
Colombia plans to host the event for the second time in its history, this time together with Argentina, between June 13 and July 10.
However, anti-government demonstrations since April 28 coupled with the coronavirus pandemic do not boil up to be the nicest scenario for a sporting competition. With 42 people having died in demonstrations, many of them due to excessive police repression, and some 1,500 others injured, the South American Football Confederation is said to be looking for alternatives for the games Colombia is scheduled to host in Bogotá, Medellín and Cali, although on the surface both the Colombian government and Conmebol insist nothing has changed so far.
Last week, a match between Cali's América and Brazil's Atlético Mineiro was suspended at least five times due to the teargas used to disperse the protesters around the Romelio Martínez stadium. «How are they going to carry out a match under these conditions? There are no guarantees!," insisted Santiago, a 25-year-old nurse and head of the organization.
Argentine President Alberto Fernández has admitted his country would be willing to host the entire tournament should Colombia withdraw.