UNWTO Tourism fair in Madrid calls for bold moves to kick start the industry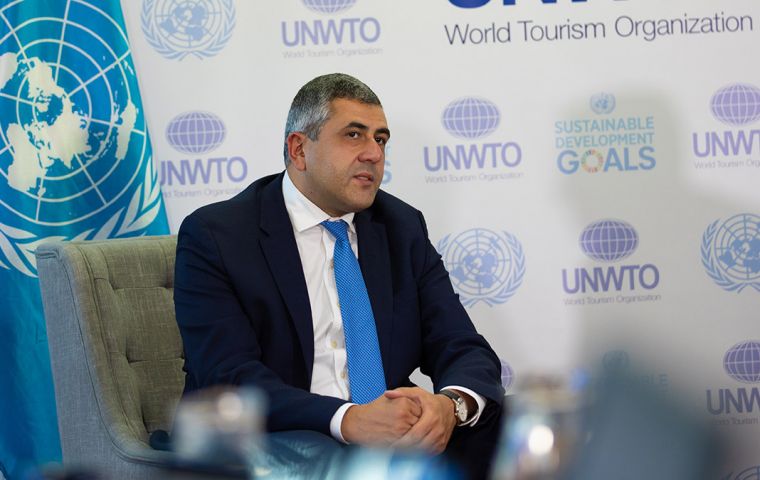 To celebrate the re-launching of the FITUR, International Tourism Fair, held this week in Madrid with the attendance of representatives from 55 countries, United Nations World Tourism Organization, UNWTO united leaders from the public and private sectors to send out a strong message that tourism is ready to return.
Secretary-General Zurab Pololikashvili welcomed distinguished guests to the Royal Theatre in Madrid, among them the newest UNWTO Ambassadors, two outstanding Argentine citizens, the manager of Atlético de Madrid football club Diego Simeone (leading this year's Spanish La Liga football cup) and super model and entrepreneur, Valeria Mazza.
Reflecting unprecedented levels of political support for tourism, joining UNWTO at the event were Reyes Maroto, Minister of Industry, Trade and Tourism of Spain and the Mayor of Madrid, José Luis Martínez-Almeida. Furthermore, the sector's ability to touch on almost every part of society was further reflected in the naming of UNWTO's latest Ambassadors. Joining Mr Simeone and Ms Mazza in accepting the honor in Madrid were the latest UNWTO Special Ambassador for Gastronomy Tourism, chef Ramón Freixa Riera and business leaders Alejandro Bulgheroni and Frank Ranieri.
Secretary-General Pololikashvili said: "Now is the time for ambition and bold steps. The decision to host FITUR is the kind of boldness we need if we are to restart tourism and so kick start wider recovery. And this show of unity is the kind of cooperation we need to restart tourism in a coordinated and responsible manner, for the benefit of many millions of people worldwide."
At FITUR 2021, UNWTO has addressed some of the key challenges facing tourism while also advancing solutions for its safe, responsible and sustainable recovery.
"It's an inflection point for the industry," said Spain's Tourism Minister Reyes Maroto, at the opening of the event. Fear of contagion and restrictions on movement triggered a 74% contraction in international tourism arrivals in 2020, according to the WTO, generating losses of US$1.3 trillion in export revenues.
But with vaccination campaigns gathering pace across the globe, tourism-dependent economies are anxious to entice back visitors and believe now is the time for a comeback.
"We cannot remain closed anymore! After a year and a half what people need is to get moving again," said Rodrigo Hurtado Escalante, part of Mexico's 110-member delegation.
A key event for lesser-known destinations to raise their profile and for industry buyers to cut package deals with resorts, this year's installment was "a little decaffeinated," said Hurtado, who first came to FITUR 20 years ago.
"Argentina's big bet in the short term is regional," Tourism Minister Matias Lammens said. "It's the same as what's happening in Europe, what's going to recover fastest is local tourism."
Like most other delegates, Lammens was keen to play up his country's natural credentials, expecting less-populated destinations to outpace demand for city travel in the short-term. "We're financing several projects in areas related to nature tourism... We have a huge opportunity here," he said.