EU hits back at Belarus for hijacking of Ryanair flight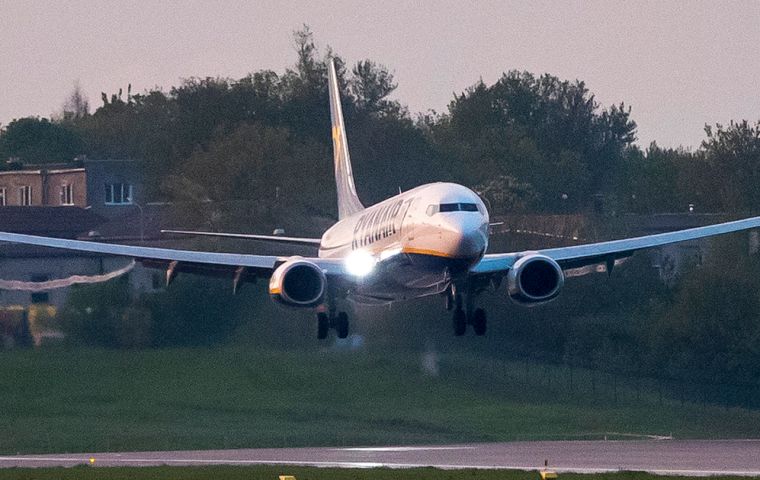 The European Union seems determined not to let Sunday's incident at Minsk airport go by and is pressing for harsh sanctions against the regime of Belarussian leader Aleksander Lukashenko, starting with a ban on all Belarussian aircraft to fly through EU skies.
EU leaders held an emergency summit Monday to bar Belarusian aircraft from operating at EU airports and flying over EU skies in addition to advising all European carriers to suspend flights through that country's airspace. But this decision still needs further approval to come into effect.
The summit "calls on all EU-based carriers to avoid overflight of Belarus; calls on the Council to adopt the necessary measures to ban overflight of EU airspace by Belarusian airlines and prevent access to EU airports of flights operated by such airlines," according to the statement.
Ryanair flight FR4978 between Athens and Vilnius, the capital of Lithuania, was diverted to Minsk while in Belarusian airspace so that 26-year-old Belarussian dissident Roman Protasevich, a journalist and former director of the independent channel Nexta, who was among the passengers, could be arrested. The Ryanair flight eventually landed in Lithuania short of five passengers.
Escorted by a Belarusian fighter plane, the aircraft landed in the capital, Minsk, where 26-year-old Protasevich, who lived between two European Union states, Poland and Lithuania, was detained along with his partner, Sofia Sapega.
The incident drew harsh criticism from most western governments – that is all of the EU plus the United States, among others. Ryanair Director Michael O'Leary even called it "state kidnapping."
The EU is therefore pushing for the ban on Belarusian airlines from flying over European space, while most European companies have already announced they would act accordingly.
European Commission President Ursula von der Leyen also announced the freezing of three billion euros in investments and aid, and further sanctions are being considered because it was a "highly unacceptable hijacking of a Ryanair plane by the Belarusian authorities, and Lukashenko and his regime must understand that there will be severe consequences."
The EU has also demanded the immediate release of Protasevich and his girlfriend and called for an urgent investigation by the International Civil Aviation Organization (ICAO) into the "unacceptable and unprecedented" incident.
The United Nations have also called for an independent investigation. Their ambassadors will meet soon and several countries summoned Belarusian ambassadors in protest.
"All the explanations invoked by Belarus are totally implausible," said German Chancellor Angela Merkel. Poland denounced "an act of state terrorism" and France called for a "strong and united response."
Minsk claimed that it followed "international norms" and even invited the "International Association for Air Transport (IATA), the European Agency for Air Safety and the aeronautical authorities concerned to participate in an impartial investigation into the incident," Belarussian Aviation Department Director Artyom Sikorsky said.
The official said Minsk airport authorities had received "an email from Hamas" threatening to "blow up the flight" if Europe did not "cease its operations. support for Israel" in the war in Gaza. The presence onboard of Protasevich -who was listed as a wanted terrorist- was then just a remarkable coincidence.

But who were the three passengers who also got off at Minsk, like Protasevich and his girlfriend, and did not continue to Vilnius when the flight resumed? O'Leary spoke openly of Belarusian "secret agents."
The aeronautical engineer Vadim Lukashevich published a graph, taken up by the independent site Meduza, where he analyzes the landing routes normally used to approach Vilnius, showing that flight FR4978 was not descending, probably to arrive as soon as possible, at full speed, to Lithuanian airspace. Why did it suddenly change course? Did the pilots choose to land in Minsk - as Belarus claims - or did something else happen? Ryanair has said it cannot give new details because the case is now being dealt with by "the competent EU agencies".
Moscow is believed to be siding with Lukashenko and has therefore reacted with a more neutral "no comment." In any case, greater isolation of Belarus can only benefit Russia, openly interested in binding it solidly within its sphere of influence, avoiding another Ukraine.
As to Protasevich's fate, his mother has been said to report that her son was at a Minsk hospital and "in "critical" condition, while a pro-government Belarusian Telegram channel posted a video of the journalist saying he was being held at a pre-trial detention structure in Minsk. "I can affirm that I have no health problems, including my heart or any other organ. The attitude of the staff here is the most correct and in accordance with the law. I continue to collaborate with the investigation and I confess to organizing mass riots in Minsk," Protasevich has been quoted as saying in that video, although his face did seem to show some bruisings, according to the Russian website Meduza.
On Monday the UK government ordered British planes to avoid Belarusian airspace. The German aeronautical group Lufthansa, the Scandinavian company SAS and the regional company Air Baltic, based in Latvia, also announced that they had adopted the same measure.
In turn, NATO demanded an investigation into the "serious and dangerous incident", while the US Secretary of State, Antony Blinken, described it as "shocking" for endangering "the lives of more than 120 passengers, including citizens. Americans ". Both the United States and the EU demanded the release of Protasevich, which Belarus had added to its list of "persons involved in terrorist activities."
The EU has already adopted sanctions on the Lukashenko government for the brutal repression of opposition demonstrations after his controversial re-election to a sixth term in August last year. Belarusian opposition activist Svetlana Tijanóvskaya, who lives in exile in Lithuania, said that "it is absolutely obvious that this is a secret service operation to capture the plane" and arrest Protasevich.