Barcelona's Sagrada Familia basilica reopens from May 29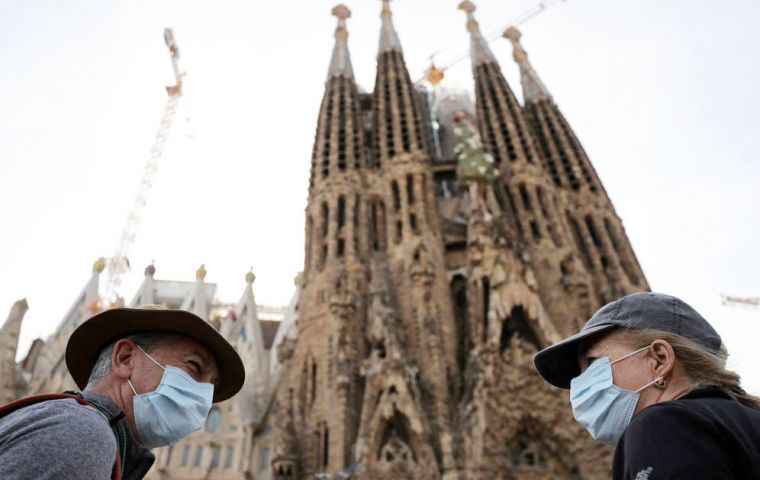 Barcelona's iconic Sagrada Familia basilica, the unfinished masterpiece of Antoni Gaudi will reopen from May 29 on weekend mornings after closing in October, hoping to benefit from the easing of coronavirus restrictions and expected tourism recovery in Spain.
The UNESCO World Heritage Site has been hit hard by the collapse of international travel. Revenues have plummeted - the main source of financing for the building's completion - halting construction work for nine months.
According to Sagrada Familia's director general Xavier Martinez it was forecasted the basilia was to be finished by 2026, "but regretfully this will not be possible", admitting it would take time to recover pre-pandemic revenue levels for construction to regain pace.
But Martinez said he was certain the Modernist-style building will be completed, with 18 towers, during his generation and was optimistic that tourism arrivals would start growing in the second half of the year.
Chief architect Jordi Fauli said: "The Sagrada Familia has faced other moments of difficulty," referring to construction almost being cancelled in 1910 and stopping during the Spanish Civil War in the 1930s.
"The construction board and people have always had the will to move forward and overcome. Our goal is to make Gaudi's beautiful project a reality," he said, speaking next to a tower dedicated to the Virgin Mary which should be completed by December, reaching 138m.
Amid the financial constraints, the board decided to focus this year on finishing the tower - completing 75% of the overall project - as part of a 6-million-euro (US$7-million) budget.
By contrast, it spent 60 million Euros on construction in 2019 when around 4.5 million people from 120 countries visited the basilica, with foreign visitors accounting for more than 90%.