Italian PM hopeful green pass will enable economic, social activities to restart next month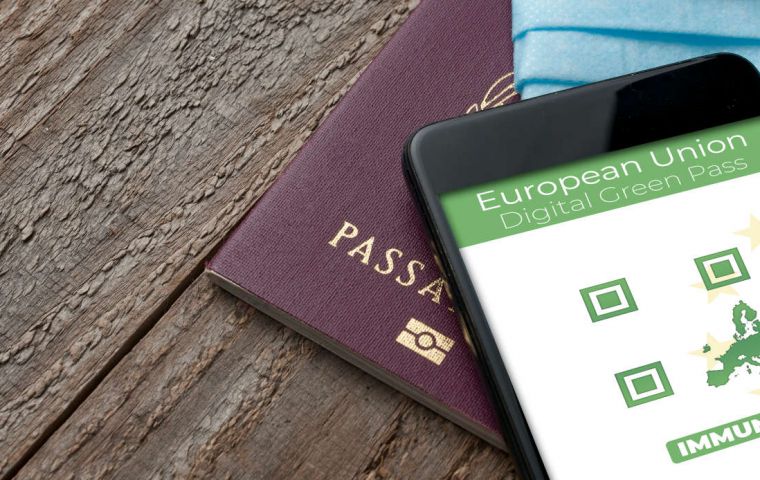 Italian Prime Minister Mario Draghi said Tuesday before the European Commission in Brussels that he was confident the vaccination "green pass" was to be ready for mid-June so that economic and social activities can restart, including the return of tourists at the beginning of the season.
Draghi explained that among EU leaders "there was some satisfaction with the way vaccinations are progressing a little bit everywhere."
Meanwhile, EU Commission President Ursula von der Leyen stressed that by this week "half of the adults in the EU will have received the first dose" as she praised the "constant progress" achieved so far thanks to the 300 million doses applied so far to 46% of the adult population in the European Union. Von der Leyen also spoke of almost a billion doses that will become available in the second half of 2021, "much more than it takes" to immunize all Europeans. And after the adults, she will turn to the children.

At the end of the month, the European Medicines Agency (EMA) will decide on the vaccination for those aged between 12 and 15 years. And then it will begin to evaluate vaccinations in schools.

However, several questions remain about the future of immunity, such as the length of coverage and then how long it takes for a second vaccination. The duration of the "green pass" is linked to this, an aspect on which the EMA will decide.

The second question is whether children should also be vaccinated and the third is how to adapt to the new variants. Vaccines are said to work against known strains of the virus but nobody knows what the future may bring. Therefore, the European Center for Disease Prevention and Control (ECDC) will expand the monitoring of variants from Europe to the rest of the world.

However, Tuesday's meeting was not as productive regarding climate change and everything was postponed for a future encounter. The EU countries are still divided between those who want to review the criteria to share the efforts to reduce emissions (the founding countries) and those who want to leave the current ones (the Eastern ones benefit more).
Draghi said "it was important that the different points of view have begun to confront each other and that an appointment has been made when the commission presents the climate plan, which has just been drafted today but is very important and innovative." He also explained that "it foresees fundamental transformations, and one of the problems raised by all is the importance of social protection in the process of ecological transition. Everyone is aware that the weakest must be protected."