Fully vaccinated Chileans may apply for mobility pass for greater freedom of movement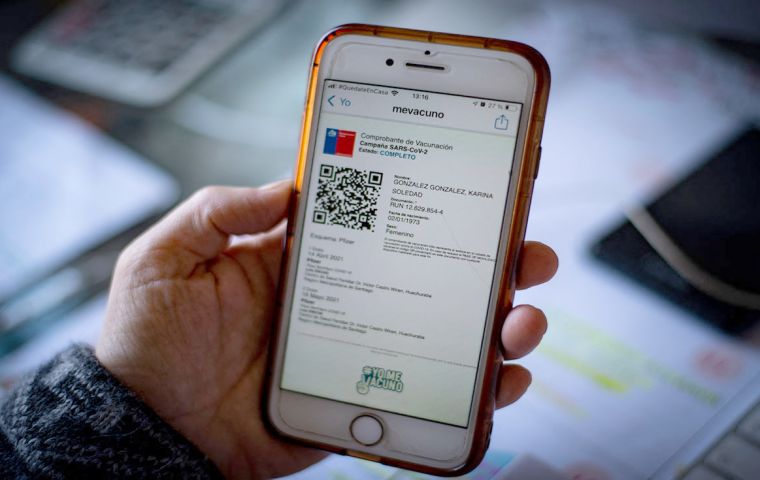 Despite heavy criticism from medical organizations, the new "mobility pass" is already in use in Chile as of Wednesday for people vaccinated against covid-19 with two doses.
The new credential, available on people's smartphones, gives holders greater freedom of movement to people after 14 days following the application of the second dose.
Mobility pass holders will be able to move freely within cities with or without quarantine to carry out activities such as going to the supermarket, pharmacies or working out outdoors. They will also be able to travel in cities that are not under lockdown.
Chile has already immunized more than 7.7 million people with two doses, more than 50% of the population over 18 years of age which the government seeks to vaccinate before June 30.
The Medical College and nine Chilean medical societies criticized the implementation of the permit, in the face of a pandemic that has health services at the limit, and at a time when infections do not decrease and a greater relaxation of the population is perceived due to the need to work.
"Any increase in mobility will increase infections. This new permit can lead to confusion and a sense of security that is not such," said the doctors in a joint statement.
Health Minister Enrique Paris defended the measure and assured that it is "a reward" for those who have been vaccinated. "They will be able to use the mobility pass and they will be able to go out, they will be able to visit relatives and grandchildren and granddaughters," he said.
The authorities have indicated that the mobility permit is not valid to circulate during the daily curfew that governs from 10 p.m. to 5 a.m., nor does it allow mass events, nor does it replace the permission that people must obtain to go to work. These people will also not have the authorization to stop using the mask.
People who do not have the two doses and are in quarantine must continue to obtain a permit on a police website, every time they, for example, want to go to the supermarket or the pharmacy.
Covid-19 caused more than 1.3 million infections in Chile and at least 28,600 deaths in 14 months of the pandemic.