Peruvian presidential candidates exchange heavy verbal fire one week before runoff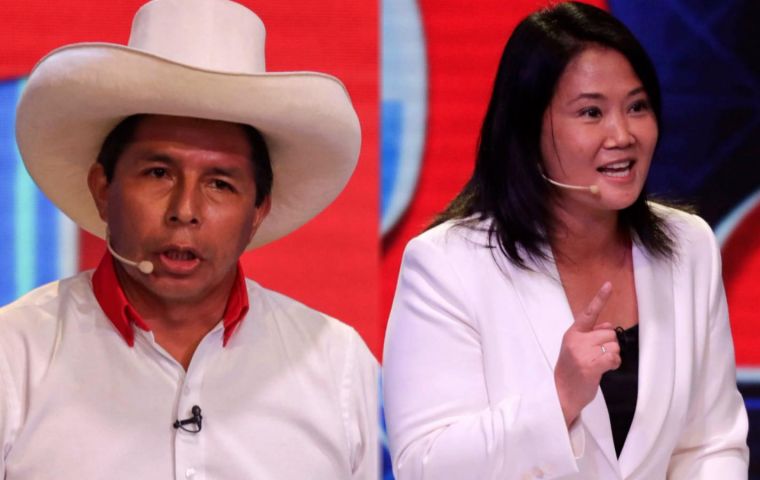 While socialist candidate Pedro Castillo of the Peru Libre party insisted he would renegotiate the contracts of large companies that are taking away the country's mining wealth, the conservative Keiko Fujimori of Fuerza Popular accused him of trying to impose a government that will not respect private initiative.
And so went for three hours on Sunday at the San Agustín National University (UNSA) in Arequipa the last debate before the second electoral round to define Peru's presidency.
Fujimori also said Castillo was launching "hate messages" against her candidacy. "Doesn't it sound like talking about corruption is synonymous with Fujimorism?," Castillo asked about former President Alberto Fujimori who is now sitting in jail for human rights violations waiting for his daughter to win the elections so that he can be pardoned.
The debate was focused on the following issues: Bicentenary Peru; health and management of the pandemic; economy and promotion of employment; education, science and innovation; fight against corruption and public integrity and human rights, social policies and care for vulnerable populations.
Castillo insisted with his proposal for an inclusive government with policies that improve education and health, employment and private investment, while Fujimori highlighted her support for financial aid against the coronavirus pandemic and the fight against corruption.
The climax of the debate was reached when Fujimori showed a stone that was thrown at her entourage last Saturday in Arequipa, leaving seven injured and at least five arrested. "You (Castillo) are used to throwing stones. This is one of the stones that was thrown at our caravan," she said.
The latest poll Sunday showed Castillo would win by 51.1% of the votes against Fujimori's 48.9%