Brazilian Army finds Pazuello did nothing wrong when he joined Bolsonaro's motorcycle caravan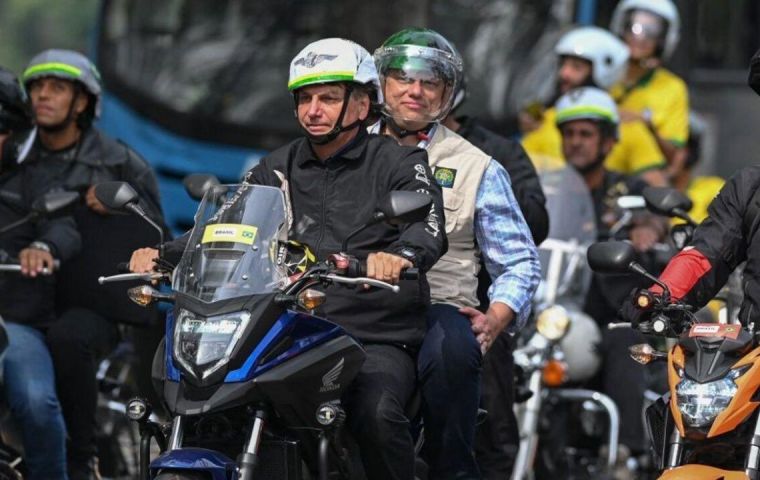 Brazil's Army commander Paulo Sérgio Nogueira de Oliveira ruled active General Eduardo Pazuello's participation in a motorcycle caravan led by President Jair Bolsonaro was not in breach of any regulations and therefore all disciplinary actions against the former health minister have been dropped, it was announced Thursday.
"There was no disciplinary transgression," wrote Nogueira de Oliveira in his resolution and the case against Pazuello was shelved. Political opponents to Bolsonaro had insisted that the Army's Disciplinary Regulation and the Armed Forces Statute prohibit active military personnel from participating in political demonstrations. Pazuello even climbed into a sound truck with Bolsonaro and gave a brief speech.
Pazuello was facing penalties ranging from a disciplinary warning to effective prison time. Bolsonaro is known to have upheld Pazuello's acts, claiming that the president is also the commander-in-chief of the Armed Forces and as such he outranks the Army chief. Bolsonaro himself is also a retired Army captain, and as such he is very much familiar with military procedures.
Pazuello's presence at the caravan was criticized among the military, including Vice President Hamilton Mourão, a retired general himself, who defended the rule prohibiting active military participation in political acts to "prevent anarchy from taking hold" of the Armed Forces.
"I already know that Pazuello has already contacted the commander informing him there, putting his head on the cleaver, understanding that he made a mistake," Mourão told reporters the day after the allegedly political act.
The former health minister was again well evaluated in the government after his testimony to the Parliamentary Committee (CPI) investigating the government's handling of the coronavirus pandemic when he was accused by senators of lying.
Now, after he participates in Bolsonaro's act without wearing the mandatory mask, Pazuello is expected to be summoned again before the CPI.
The event with Bolsonaro and Pazuello took place in Rio de Janeiro, two days after the former Minister of Health was heard by the CPI and asked about the government's failures to fight the pandemic. When talking to supporters and waving from above the trio, neither Pazuello nor Bolsonaro wore masks.
Those in favour of Pazuello argued that the event was not of a political nature because the country is not going through an electoral period, and because Bolsonaro is not affiliated with any political party.
Pazuello was appointed this week to a position in the Secretariat for Strategic Affairs of the Presidency of the Republic.