Fact Checking: Uruguayan President took less scientific-recommended measures than he stated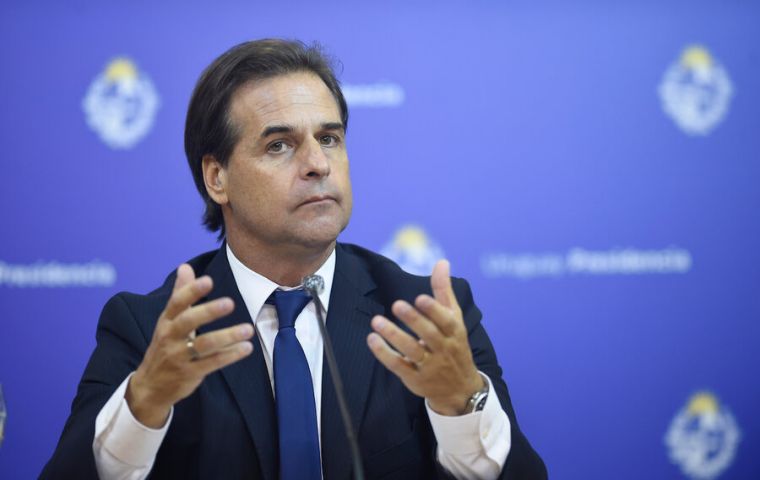 The information check unit of French international news agency AFP Friday announced it had detected a statement by Uruguay's President Luis Lacalle Pou that 24.5 of the 27 sanitary measures recommended by his honorary scientific advising committee known as GACH was not accurate.
In a lengthy report signed by the journalist responsible for AFP Factual in Uruguay, Juan Ignacio Berro, the agency concluded that President Lacalle Pou was not correct in stating that 24.5 of the 27 measures suggested by the GACH have been implemented, as he had stated June 1 in an interview.
"On June 1, Uruguayan president, Luis Lacalle Pou, stated in a television interview that the government" took 24 and a half of the 27 measures "suggested by the Honorary Scientific Advisory Group (GACH), which advises the Executive on related issues with covid-19, in a document published on February 7, 2021," the AFP report starts.
But "although the Executive Branch applied several of the suggestions that that body recommended, the number of measures fully applied is less than that indicated by the president, according to the review of official documents carried out by AFP Factual."
"In the collective imagination, also encouraged by some political and union leadership, it is said that the GACH document of February 7 has been ignored. I have said it more than once and it is good to repeat it: that GACH document ... proposed 27 measures Do you know how many measures the government took of those 27? 24 and a half," said the president, interviewed by journalist Blanca Rodríguez on TV earlier this week.
In the interview, Lacalle stressed that the only recommendations that the government did not adopt were those to restrict night traffic, interdepartmental mobility and the total closure of restaurants and bars, and clarified that a 24-hour limit was set.
"But according to the comparison made by AFP Factual between the GACH document and the measures implemented, only 14 recommendations were fully applied and seven partially," says Berro.