Paraguay needs additional medical oxygen from Brazil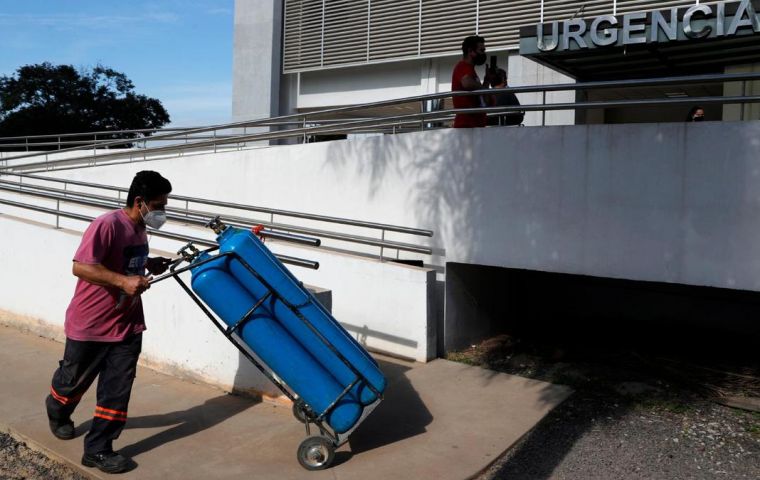 Paraguayan President Mario Abdo Benítez Tuesday reached out to his Brazilian colleague Jair Bolsonaro to negotiate the purchase of medical oxygen above the current quota because it is not enough, according to health authorities.
After a cabinet meeting on Tuesday, Abdo was briefed on the need for additional supply due to the high level of covid-19 infections in Paraguay. The president decided to phone Bolsonaro in an attempt to negotiate a supply above the current limit of the Brazilian Health Surveillance Agency (Anvisa) which was set at 100 tonnes per week, when Paraguay would need 700, as domestic suppliers were unable to deliver the required quantities, it was reported.
Health Minister Julio Borba explained that the current consumption rate was about 180 tons per day and local companies do not have the production capacity to supply the current demand.
The country's Ministry of Health has reported another day with more than 130 coronavirus deaths in the past 24 hours, bringing the total number of deaths since the start of the COVID-19 pandemic to more than 10,000.
In the last day, authorities confirmed 3,135 new cases of covid-19 in the country, bringing the total number of people infected since the start of the pandemic to 379,131.
Meanwhile, Abdo lashed out at people for not getting vaccinated "now that there are vaccines," although he refused to discuss lowering the age groups to whom immunizers would become available.
Abdo insisted "there are vaccines now in all vaccinations (centres)... If we continue this daily vaccination average of 8,000 to 10,000 (...) we have guaranteed vaccines for the next 20 or 25 days with the ones we already have and we will continue to receive," he said.
Abdo insisted that people not going to vaccination centres was a worldwide issue, not just a Paraguayan problem. "I want to ask citizens to go to vaccinations to increase the level of immunization of our population," he said.
He said that it is necessary to ensure that the largest number of people, already qualified for immunization, can receive the vaccines.
"I don't know if communication is the problem. We have been in a pandemic for two years, I do not think there is a single Paraguayan who does not know what the world or humanity and our country are experiencing. Awareness campaign we are doing. I don't think there will be more awareness campaign than seeing reality and observing 10,000 deaths," said the president.