Robot nurse launched in Hong Kong to assist covid-19 patients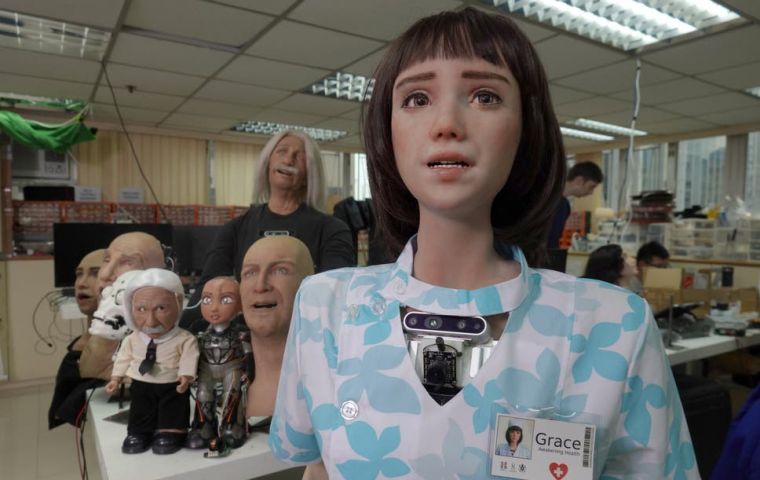 A Hong Kong-based robotics company, which has 2016 already created Sophia, has now introduced Grace, the first robot nurse designed to assist the elderly and people isolated by the covid-19 pandemic as well as to relieve overburdened health caregivers.
The Hanson Robotics company presented Grace, an android, who has Asian features, is dressed in a blue nurse's uniform, has brown hair and is equipped with a thermal camera on her chest to take the temperature and measure the response capacity of the patients.
Grace also uses artificial intelligence to diagnose patients and can speak English, Mandarin and Cantonese.
"I can visit people and make their day with social stimulation ... but I can also do talk therapy, take bio-readings and help health care providers," Grace said, once placed near her "ancestor" Sophia in the workshop of the American company Hanson Robotics based in Hong Kong.
Grace's primary goal is to ease the burden on hospital medical staff, overwhelmed by the workload during the pandemic, according to company founder David Hanson, who also explained that the natural appearance of the robot is because Grace can simulate the action of more than 48 facial muscles and is programmed to behave in a "comforting" way and even simulate Asian and Western styles of behaviour.
According to the scientists involved in its creation, the Chinese robot nurse has the ability to detect when someone is infected with COVID-19, due to its sophisticated Artificial Intelligence (AI) system.
"A human appearance facilitates confidence and natural commitment because we are programmed for face-to-face human interactions," said Hanson.
"Grace's resemblance to a healthcare professional and her ability to socialize is intended to ease the burden on the overwhelmed front-line hospital staff during the pandemic," Hanson said.