Brazilian indigenous group APIB files criminal charges against President Bolsonaro before ICC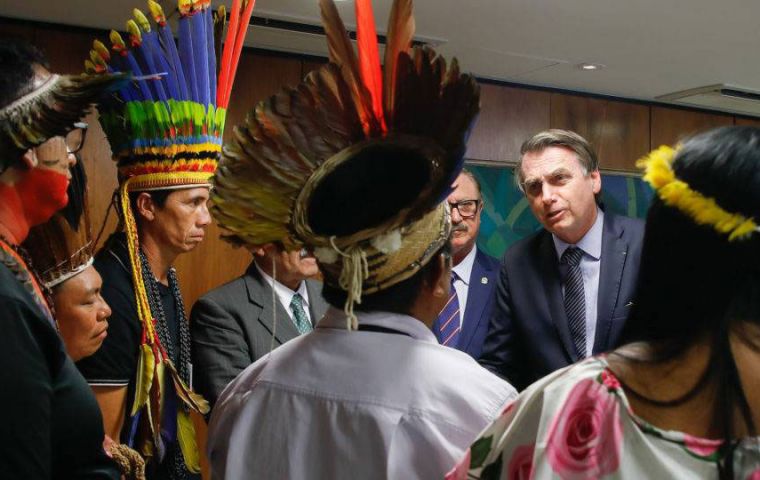 Indigenous lawyers have filed genocide charges against Brazil's President Jair Bolsonaro before the International Criminal Court (ICC) based in The Hague, it was announced Monday.
Marking the International Day of the Indigenous Peoples, the legal team headed by Counselor Luiz Eloy Terena among others seek to hold Bolsonaro accountable for the death of 1,162 indigenous people from 163 indigenous communities in that country.
The 148-page complaint was drafted by a team of seven lawyers from the Articulation of Indigenous Peoples of Brazil (APIB), a group representing some 900,000 native Brazilians. The 33-year-old Terena stems from a village on the border with Paraguay.
According to the newspaper O Globo, the plaintiffs have maintained that "What we experienced during the administration of President Bolsonaro was an explicit refusal to demarcate new lands." They also pointed out that "at the same time, bills, decrees and ordinances tried to legalize illegal activities in indigenous territories, which left us without legal protection."
The evidence of a crime against humanity, against the planet and the environment consists of a series of decisions and decrees which have caused harm to the indigenous communities since the beginning of Bolsonaro's term and throughout the coronavirus pandemic.
According to the complaint, the president's arbitrary policy has led to land invasions, attacks, deforestation and other illegal activities.
Indigenous leader and executive coordinator of APIB Sonia Guadalajira said that "we no longer bear so much pain."
"During the pandemic, we have witnessed the death of dozens of indigenous people of the Kokama and Xavante people, and the extermination of the last man of the Juma people," she added.
In addition, she underscored that the damage caused by the Government of Bolsonaro, "is equivalent to 50 years of delay and loss of conquered rights," in reference to provision added to the 1988 Constitution regarding the respect for indigenous life. and its territories.
"All this environmental destruction that is being legalized is very dangerous not only for Brazil, but for the entire planet," the document warned.
The ecocide charges were included in order to stimulate an international debate to make it a crime against humanity in the eyes of the ICC.
This complaint filed before The Hague is the third of its kind against Bolsonaro. Previous filings were submitted by human rights intellectuals gathered under the Comissao Arns and by indigenous leaders Raoni Metuktire and Almir Suruí with the help of French jurists.