Paraguayan minister praises FAO's project for family farming products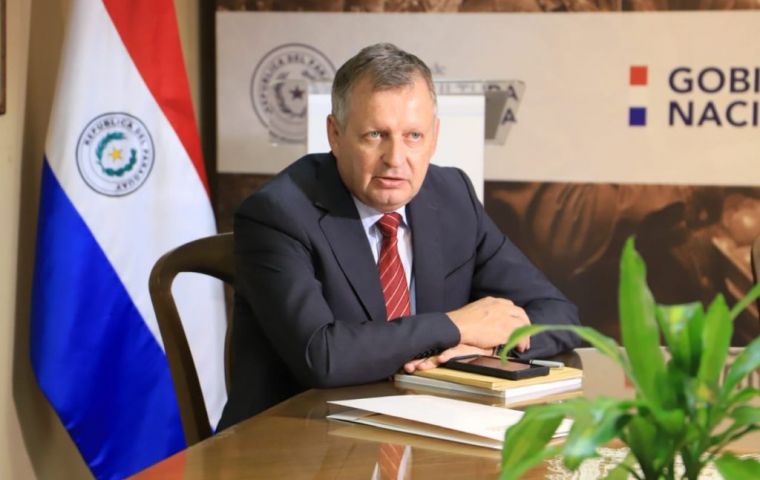 Paraguay's Agriculture Minister Moisés Santiago Bertoni Tuesday highlighted the cooperation framework his country will have with the United Nations (UN) Food and Agriculture Organization (FAO) for the period 2022-2031.
The official also reaffirmed Paraguay's commitment to the 2030 Agenda and addressed the importance of guaranteeing the resilience of production systems and at the same time generating mechanisms that ensure sustainability.
Bertoni made those remarks during FAO's launch of the global initiative "One country, a priority product," to develop sustainable value chains and support small farmers to reach international markets.
The Paraguayan minister also said the incorporation of technology, the development of innovation, the generation and management of data and information, the strengthening of governance, the development of human capital and institutions, which are topics of high importance for the countries and are key in the process of sustainable development.
The FAO initiative will promote Special Agricultural Products (SAPs) and facilitate the development of sustainable production models for small farmers.
The UN agency's initiative also seeks to help transform current agri-food systems and achieve the Sustainable Development Goals.
SAPs, defined by FAO in a statement on their presentation, are products with unique qualities and special characteristics associated with geographic locations and cultural heritages, which can make important contributions to food security and healthy diets.
They include all types of agricultural products with the potential to be recognized and which lack full support from local agricultural and rural development programs, along with common crops such as rice, wheat, corn, soybeans and potatoes.
FAO's action grants SAPs "enormous potential for integration into markets and trade at local, regional and global levels."
FAO's General Director Qu Dongyu underscored that world food supplies depend more and more on a few crops and products, and "most agri-food systems which have a high level of inputs, require a large number of resources and they lack integration, optimization and innovation."
Qu Dongyu also pointed out that the initiative's goal was "to obtain significant results for the sake of economic competitiveness, social inclusiveness and sustainable development at the national level."
The success of the Action, defined Qu, will depend on collective support, active participation and robust contributions of all stakeholders in all regions and sectors.