Argentine pork meat exports fall 80% in third quarter of 2021, study shows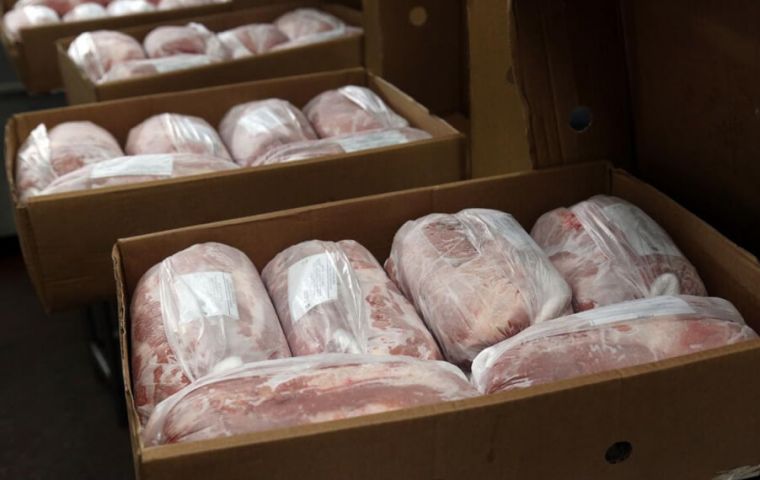 Argentine exports of pork meat have contracted 80% in the third quarter of 2021 due to a fall in Chinese demand and a sharp decline in international prices, despite a steady domestic demand, it was reported.
According to JLU Consultora, Argentine exports of pork fell during July, August and September, by 83.23%, from 14,033 tons in the 2020 period to 2,354 tons.
This abrupt drop caused shipments to fall from 31,891 tons exported in 2020 to 28,468 tons so far in the first nine months of 2021, even though shipments of pork were until June around 10,000 tons above in the yoy comparison.
It is thus assumed this year will end with the first drop in exports since Argentina began to trade pork abroad in 2017.
Former Argentine Association of Swine Producers President Juan Uccelli told Télam that shipments will end in 2021 with a volume of 35,000 tons (7,000 tons less than in 2020) when it was expected to reach the record 60,000 tons.
Those figures converted to hard currency represent US $ 85 million worth of exports, against US $ 105 million last year.
Uccelli explained that this decline was due to a drop in Chinese demand, which accounts for 80% of total Argentine exports, coupled with a sharp drop in international prices. The rise in the price of corn and soybeans, the main food for pigs, caused a large number of Chinese producers to leave the circuit due to the losses caused by the increase in costs, Uccelli also pointed out.
"When leaving the system, the equivalent of almost all the farms in Argentina sent the animals to slaughter, which generated a surplus of meat in China and a decrease in purchases in the world market," said Uccelli.
Guillermo Proietto, general manager of the Argenpork export consortium, explained that "during the first semester what was happening in China is that the price of live pork began to drop locally, due to a significant recovery in production" and "some outbreaks of African swine fever made producers rush to liquidate production, added to a point in the year that is not of high demand for pork in that country. That caused the price to fall and ended up causing the production to stop. exports, as the price collapsed by almost 50%," Proietto explained.
In addition to these factors, "in August it was expected that China would resume purchases, but at the end of July an important Chinese and Brazilian broker filed for bankruptcy and caused a very serious problem for the sector since it left many unpaid containers in China or on the way to that destination loaded with pork," Uccelli also explained. "In the meantime, they began to offer that cargo to sell it quickly and what was worth US $ 2,500 a ton became worth US $ 1,000," he added.
But while international prices fell, Argentina's domestic market of live pigs recovered, which led to what was stopped being exported to be absorbed by the domestic market. At the beginning of the third quarter the so-called HoReCa channel (hotels, restaurants and catering) began to reactivate, which led to higher demand and a rise in the domestic prices of the live kilo, Uccelli noted. "There was a lot of demand, so as there was more demand, the price of pork paid to the producer rose, from US $ 1.26 to US $ 1.35 per live kilo. Normally, in September there is a strong demand. With that situation today It is US $ 1.53 ", he pointed out.
"The domestic market is very good, money is earned. It will be a very good year for the sector, better than last year", Uccelli foresaw.
(Source: telam)