Brazil donates two Bell helicopters to Paraguay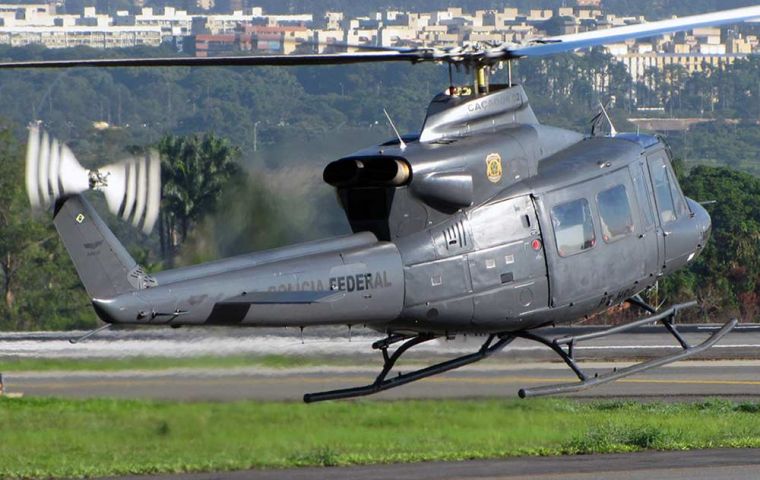 After securing new units as replacements, Brazil's Federal Police last week announced the donation of two Bell 412EP helicopters to Paraguay. The two units were built in 1995 and delivered straight to Brazil.
They are the last line of the Huey family, which gained notoriety during the Vietnam War. and recognized worldwide for their robustness. The 412EPs have have two turbo engines and four-blade propellers.
The country of destination has,
The donation of the two helicopters was a promise made by Brazilian President Jair Bolsonaro to his Paraguayan colleague Mario Abdo Benítez in 2020, it was reported.
The two aircraft are to be ferried to Foç do Iguaçu shortly, where the official delivery will take place. Paraguay has yet to disclose which giovernment agency will effectively operate the new helicopters, which are fully airworthy although presently kept under storage.
Meanwhile, also last week, Uruguay's Air Force has taken delivery of a "new" Bell 212 helicopter donated by the Government of the United States.
The aircraft, registered as N845RL, was donated specifically by the United States Southern Command and by the Defense Cooperation Office of the US embassy in Uruguay.
It was ferried to Montevideo's Carrasco International Airport by an Uruguayan Air Force Hercules C-130 recently purchased from Spain.
The new acquisition comes as a replacement to FAU-030, another Air Force Bell 212, damaged beyond repair in March this year while performing health aid tasks in the fight against the COVID-19 pandemic. This new Bell 212 is to be registered as FAU 034 and will be operated by Air Squadron No. 5.
The helicopter is from the 1970s and will be deployed in search and rescue missions as well as medical relief tasks and also at Uruguay's peace mission in Congo
Uruguay's Defense Minister Javier García said the price of the new acquisition was around US $ 4 million. Despite being from the 1970s, the aircraft is "totally modernized," García said.
He also pointed out Bell 212s were known to Uruguayan pilots and that FAU 034 will help rebuild the fleet after the loss of FAU 030 which crashed in Rocha while carrying COVID-19 vaccines.
The new helicopter adds to the modernization of Uruguay's armed forces, after a document was published for the construction of the naval base in Fray Bentos, which will mean the decentralization of the National Navy.
US Charge d'Affaires Jennifer Savage explained that the value of this helicopter was US $ 4,500,000. She also praised Uruguay for its peacekeeping missions worldwide.
The diplomat also recalled that in recent years more than US $ 12 million worth of equipment had been donated and that troop-carrying armored vehicles worth US $ 7.6 milion were due in the coming months.