Federal court grants stay on Biden's vaccination mandate
Monday, November 8th 2021 - 08:50 UTC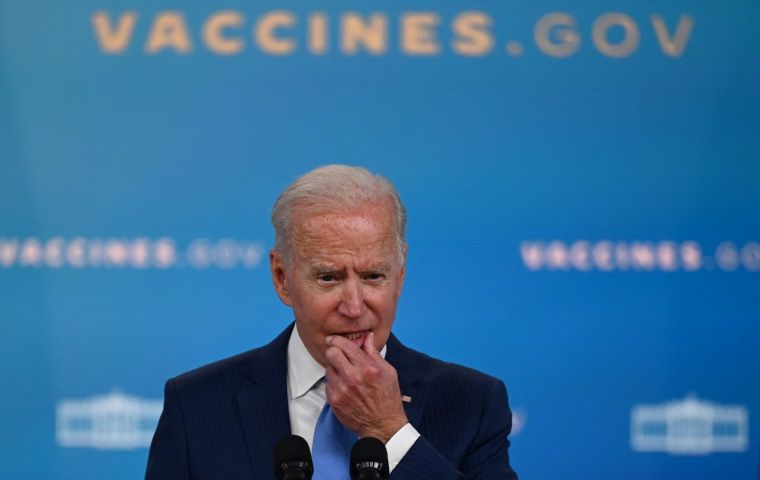 A federal court of appeals has granted a stay on US President's Joseph Biden's mandatory vaccination against covid-19 for employees working for companies with staffs of 100 or above, it was announced.
Biden's measure had ordered tens of millions of employees to be vaccinated against covid-19 by January 4. Biden's order had left the door open for the unvaccinated to undergo weekly tests and employers who failed to enforce this mandate were to be fined.
Compulsory vaccination also included health care workers and employees of federal agency contractors. I had been announced in September and became effective last week. It was one of the most radical measures taken by the United States government to stop a virus which has already killed 750,000 people natiowide.
But the initiative was immediately challenged in court, in particular by the Republican-controlled state of Texas, resistant to any obligation to vaccinate. In its decision, the federal appeals court with jurisdiction in that southern US state ruled that the plaintiffs had "given arguments suggesting that there are serious constitutional and procedural problems" with the government's text.
"We will be able to challenge Biden's unconstitutional abuse of power in court," Conservative Texas Governor Greg Abbott, who has already banned mandatory vaccination in his territory, commented on Twitter.
Biden's mandate left it up to employers to take measures against those who resist vaccines and regular tests. Companies failing to comply with it faced fines of between US $ 13,000 and US $ 136,000.
The rule was to be effective nationwide, even at States which had passed laws prohibiting employers from requiring vaccination, masks or anticovid tests. The measure was considered to be one of a "dictatorship" by the Republican opposition.
Several companies, including Tyson Foods or United Airlines, had already prepared the ground by imposing these obligations on their employees since the end of September.
The US Court of Appeals for the Fifth Circuit ruled on Saturday that "there are grave statutory and constitutional issues" with the mandate. "The mandate is hereby stayed pending further action by this court," the Court added in response to a joint petition from several businesses, advocacy groups, and the states of Texas, Louisiana, Mississippi, South Carolina and Utah.