No COVID-19 deaths in São Paulo, Brazil, in one full day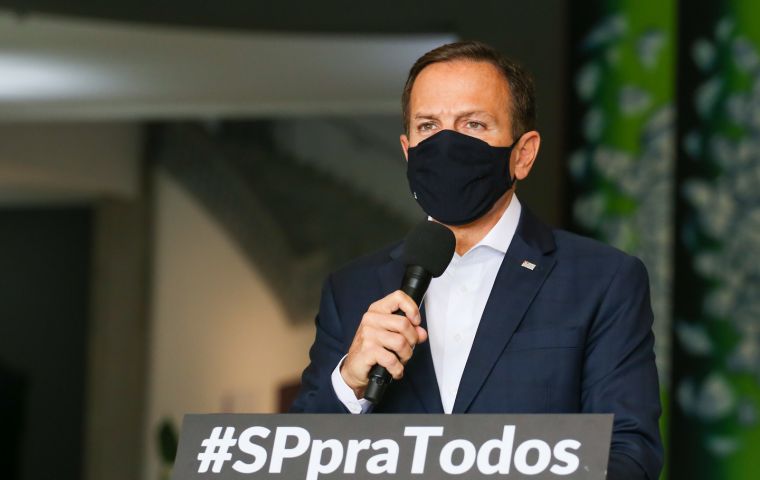 The Brazilian State of São Paulo Monday recorded its first day without deaths due to COVID-19 since the outbreak of the pandemic in March 2020.
Authorities making the announcement have linked the achievement to the advances in vaccination against the coronavirus, according to a statement from the Health Secretariat of the State of São Paulo.
"This is the first time an episode like this has occurred since March 2020," the statement said. On the other hand, 359 new infections were registered in the previous 24 hours.
The regional secretariat reported that occupancy of hospital ICU beds for patients with COVID-19 in São Paulo is 24.5%, while immunization with two doses statewide reached 89.4% of the population over 18 years of age.
Of the 609,447 deaths in Brazil, São Paulo has 152,527, while it accumulates 4,413,241 infections of the 21,880,439 confirmed cases throughout the country.
"It is a victory for science, the vaccine and life. We have had good accumulated rates in recent weeks here in Sao Paulo, and the reason is vaccination. Sao Paulo is the state that vaccinates the most in Brazil," said SP Governor Joao Doria, quoted in an official statement.
Brazil has resumed activities with no restrictions regarding capacity since September, although for social and mass events it is necessary to submit a vaccination certificate in addition to wearing a face mask.
With 55% of the population immunized with two doses, Brazil is registering the first week with a daily average of deaths below 300, similar to April 2020 levels, according to the federal Health Ministry.
Brazil is, after the United States, the second country in the number of deaths from the coronavirus and the third in cases behind the US and India.