Brazil reports first two cases of Omicron subvariant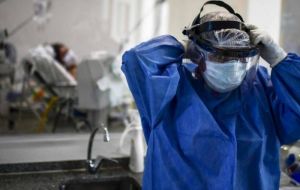 Brazil's Fiocruz Institute Monday announced the first two cases of the BA.2 sublineage of the SARS-Cov-2 Omicron variant had been detected in the country: one in the State of Rio de Janeiro and the other in the State of Santa Catarina.
Fiocruz's Respiratory Virus and Measles Laboratory confirmed the findings. The scientific facility has been working on mapping viral genomes since the start of the pandemic.
The initial diagnosis was made by local laboratories through PCR-RT testing. Samples were then sent to the Fiocruz laboratory for genomic sequencing, which confirmed the presence of the BA.2 subvariant.
The final results have been conveyed to local health authorities as per the protocols in force. Fiocruz has said the new version of Omicron is more contagious, but not necessarily more dangerous.
The World Health Organization (WHO) had said last week this particular subvariant had been already found in 57 countries. Brazil would be the 58th. But the WHO also admitted in its weekly epidemiological bulletin that Omicron was less severe than previous forms of COVID-19.
The WHO also explained Omicron has several sublineages: BA.1, BA.1.1, BA.2 and BA.3, while BA.1 and BA.1.1 accounted for over 96% of the Omicron sequences uploaded to the global Gisaid database, although the increase in the number of BA.2 cases was substantial.
The BA.2 subvariant was first mentioned in a WHO paper published Jan. 25, but it is not considered dangerous. In fact, very little is known about this variant, although experts said vaccines were as effective as for the original Omicron variant, which was first reported of Nov. 11 in Botswana.
As Omicron prevails worldwide, a continuous decrease in cases of Delta and a very low circulation of Alpha, Beta and Gamma have been reported.