Chile to build longer ditch along Bolivian border
Monday, March 7th 2022 - 09:40 UTC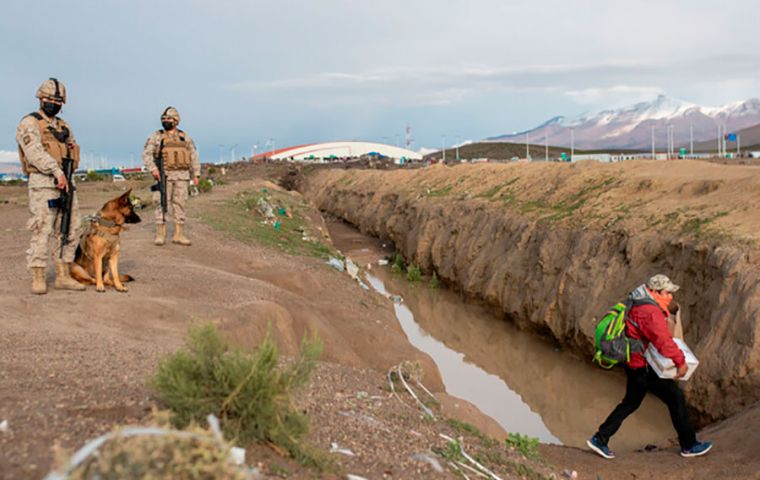 Less than a week before the end of President Sebastián Piñera's term, Chile's government has announced plans to build a long ditch on the border with Bolivia as a measure to control the migration crisis stemming from the illegal arrival of people.
Interior Minister Rodrigo Delgado disclosed the intended measure at the National Defense Headquarters in Tamarugal, where a state of exception is in force. President Piñera extended it last week for yet another fortnight.
Chile will build another 300 meters of ditch on the border with Bolivia, near the town of Colchane, to control irregular migration and criminal gangs, the authorities explained. Last week, maintenance and repair work at a 600-meter ditch built five years ago near Colchane was completed.
"Due to the sediments, the passage of time and also many times due to human intervention, precisely related to criminal gangs that seek to put some bridges (...) this ditch had been quite diminished," Delgado said.
"Today we have 600 meters with a standard depth of 3 meters and obviously with very rigorous maintenance," he added.
The state of exception allows for the deployment of more than 600 troops in four northern provinces to help the police control undocumented migrants.
Criminal gangs involved in smuggling and drug trafficking have also built bridges to cross the border, according to press reports. These bridges have also been used by undocumented migrants, mainly Venezuelans.
"There are approximately 300 meters that are going to grow to the north of the current ditch," where the situation gets more complicated, according to Delgado.
For the past two years, Colchane has become the gateway for thousands of undocumented foreigners who cross on foot through unauthorized passes from Bolivia, in search of a better life in Chile.
The new, larger ditch seeks "to have a greater capacity to control criminal gangs who want to pass through in vehicles or people who want to enter Chile clandestinely," said Delgado.
At least 23 migrants died last year trying to cross the border from Bolivia. Most of those who manage to reach Chilean cities settle in tents, in squares, or walk adrift asking for help.