Argentina: Wage bargaining cushions margin to fight inflation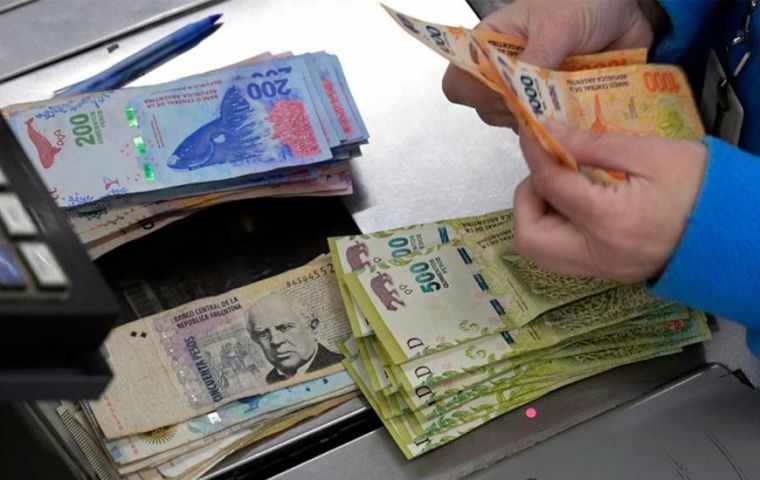 Argentine labor unions are negotiating wage adjustments of around 60% in an attempt to outpace the country's rampant inflation, it was reported in Buenos Aires.
The daily Ámbito explained Thursday that, according to a study from private consultants Synopsis, uncertainty regarding the trend of prices has led workers' guilds to seek bargaining agreements above inflation projections.
Hence, there has been a persistent increase in the adjustment indexes, from around 30% at the beginning of last year to 52.9% last January and over 62% in March, Ámbito said.
The Luz y Fuerza union topped the list with a 35% increase to be paid in two phases, which leads to annual figures of 70%, in addition to a review clause to be enacted in August, the study indicated.
The metal workers' UOM union reached an annual agreement of 3 increases, which, add up to a combined adjustment of 45%. Yearly projections exceed 65% and a revision clause was set for November.
According to Synopsis, an inflationary acceleration in the first months of the year has altered the beginning of the collective bargaining season, so much so that it has led to labor agreements for periods below one year.
There has been a change in the bargaining process. Increases are no longer agreed upon in phases. Instead, "the agreements have begun to be quantified (we agree on something for now and later we agree on the rest)," the report pointed out.
Thus, most agreements signed in 2022 have defined increases for shorter periods, leaving the rest of the year's understandings to be defined at a later stage when the speed of inflation is certain.
The research also pointed out that the complementary increase, which completes the annual agreement, will not necessarily have the same magnitude as the initial one.
At a rate higher than 60% per year, some salary updates would exceed inflation forecasts from some private consulting firms.
(Source: Ámbito)