Chile's domestic built icebreaker is 59% completed, Navy reports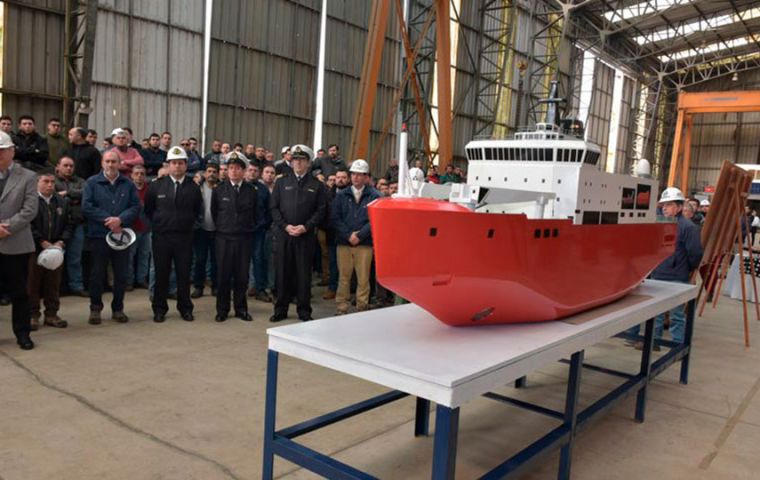 Chile's first domestic built icebreaker, as part of the "Antarctica Project I", will enable the country's navy to fulfill multiple logistic tasks, research operations, supply Antarctic bases and stations, having the capacity to sail in one-meter thick ice.
The vessel is under construction in the navy's Asmar shipyard in Talcahuano and is 59% completed and should be ready to begin sea trials in 2023. She has been designed by Canada's Vard Marine, the Chilean navy's program and development department and Asmar at an estimated cost of US$ 216 million.
The vessel is 111 meters long, 21 meters beam and a draught of 7,2 meters, capable of operating at minus 30 Celsius, with an autonomy of 14,000 nautical miles or 60 days at sea with a speed of 15 knots. She will have a crew of 86, plus 34 scientists, and can transport 19 twenty ft containers, 400 cubic meters of fuel and another 400 cubic meters of cargo. As an Ice Class PC5 vessel, she will be capable of breaking through one meter thick, one year old ice with 20 centimeters of snow at a speed of three knots.
Scientists will have a whole raft of modern research equipments for oceanographic, physics, chemistry, geology and geophysics research, plus several micro and macro biologic labs and facilities to extract benthonic samples and cold store them.
To address search and rescue operations, two helicopters will be available, rescue boats and an infirmary with surgery capacity.
In coming months "we should be finalizing the installation of systems, and should be ready for the launching of the structure sometime December or January 2023", anticipated Jaime Sotomayor, head of the Asmar yard. The Chilean navy could be incorporating the new icebreaker at the end of 2024. Chile currently has an icebreaker, "Admiral Oscar Viel", a former Canadian Coast Guard purchased in 1995.