Former Cuban FM Ricardo Alarcón dead at age 84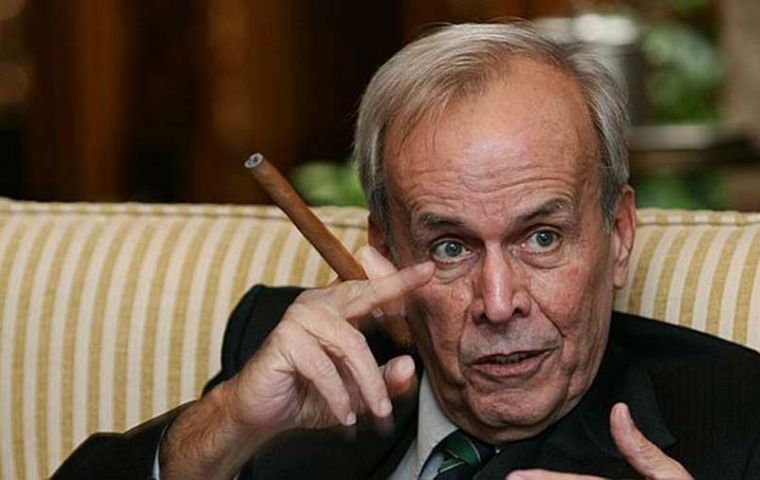 Former Cuban Foreign Minister and Chairman of the Cuban National Assembly, Ricardo Alarcón died Saturday night in Havana, President Miguel Díaz-Canel announced Sunday. Alarcón was 84. He was a widower and is survived by a daughter and a grandson.
The head of state together with current Foreign Minister Bruno Rodríguez relayed the news on Twitter.
"Last night in Havana, Ricardo Alarcón de Quesada, a great patriot and brilliant diplomat of the #CubanRevolution, whose work he defended with passion and solid arguments, making our people proud, has died. All of #Cuba feels his departure," said Díaz-Canel.
Alarcón also chaired the National Assembly between 1993 and 2013, when he stepped down for undisclosed reasons as he was also removed from the leadership of Cuba's Communist Party.
"To Ricardo Alarcón de Quesada, the Master of the diplomats of our generation, we will always keep deep respect, admiration, and infinite affection," Deputy Foreign Minister Josefina Vidal wrote on her Twitter account. "Thank you for the privilege and honor of having been his disciples," she added.
Alarcon was trusted by brothers Fidel and Raul Castro for decades, especially whenever there was any kind of dialogue with the United States, whether on immigration or other issues, including during the legal battle for the return of shipwrecked child Elian Gonzalez in 2000.
Alarcón was not directly involved in the last negotiations that led to the island's thaw with Washington in 2014 under the leadership of Presidents Barack Obama and Raúl Castro, as he was then already away from active public life.
However, he was visibly responsible for a sort of judicial and political battle for the release of five Cuban intelligence agents detained in Florida in 1999 and subjected to severe sentences, who returned to Cuba in the heat of the reestablishment of diplomatic relations in 2014.
He argued that these men, considered heroes in Cuba, were only gathering information to prevent terrorist attacks against the island that were eventually forged by radical Cuban exile groups in Florida.
He was also the Cuban official most sought after by U.S. television channels seeking an explanation of the policies of the island's Communist government, in front of whom he often displayed his fluent English and shrewdness. He was not afraid of debate, nor of uncomfortable questions.
Alarcón was even mentioned as a possible successor to Fidel Castro before his brother Raúl took over the leadership of the country in 2008.
During the legal battle for custody of Elián, Alarcón was a personal advisor to the child's father. During the trial, he compared the Cuban exile community in Miami to a "banana republic" and a "Wild West" where no law could reach.
He frequently described the U.S. embargo as "genocidal" and painted a bleak picture of what the Caribbean nation would look like if the US plan enacted to achieve a "Free Cuba" became a reality, a program that was toughened under President Donald Trump and remained unchanged under Joseph Biden despite his campaign promises.
The reasons for Alarcón's retirement were never clear, but a year earlier, in 2012, his right-hand man and secretary, Miguel Álvarez, was arrested and accused of espionage in a high-profile case.
Before becoming a parliamentarian, Alarcón served as foreign minister and twice as Cuba's ambassador to the United Nations: 1966-1978 and 1990-92. He was also vice-president of the UN General Assembly and president of the administrative council of the UN Development Program.
Born on May 21, 1937, in Havana, Alarcón had a Ph.D. in philosophy and literature. As a young man, he was a fierce opponent of the Fulgencio Batista dictatorship and took part in the movement that overthrew him.