WHO releases "more comprehensive" COVID-19 figures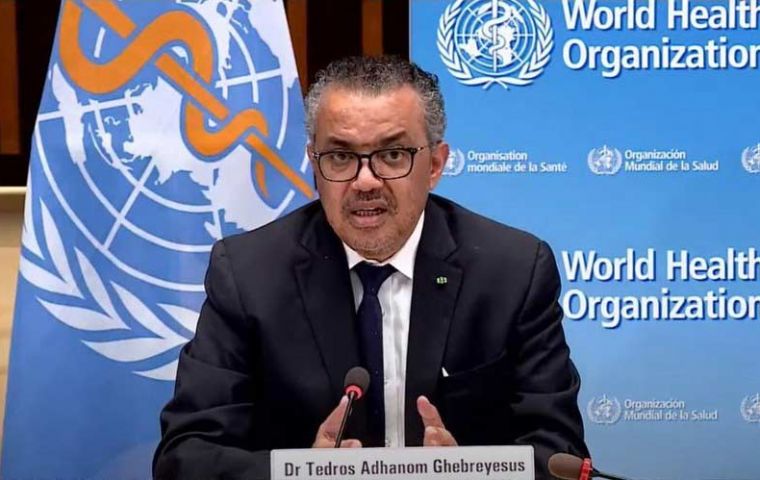 According to the World Health Organization (WHO), the number of deaths caused by COVID-19 is far larger than previously thought and has reached nearly 15 million people directly or indirectly worldwide, twice as many as initially estimated, once the WHO quantified the direct and indirect impacts of the pandemic.
This figure stems from the 6.24 million covid deaths officially reported by WHO's 194 member countries, plus what the agency included in Thursday's report under the label of "excess deaths," which are the deaths that were recorded in the two-year period and those that could have been expected if the pandemic had not occurred.
The WHO estimates that 14.9 million deaths may be associated with the pandemic, representing a midpoint between a low of 13.3 million and a high of 16.6 million deaths counted from January 1, 2020, to December 31, 2021.
The organization has also drawn attention to deaths caused by COVID-19 but not reported as such, as well as those caused by other diseases that could not be treated properly due to the overburdening of health systems in the acute phase of the pandemic.
This result has also been influenced by deaths that from some point of view were "avoided" because the confinements reduced the risk of traffic and occupational accidents.
"These data point not only to the impact of the pandemic, but to the need for all countries to invest in stronger health systems that are capable of sustaining health services in times of crisis, and to have strong health information systems," said WHO Director-General Tedros Adhanom Ghebreyesus.
"The monitoring of excess mortality provides us with a more comprehensive understanding of the impact of COVID-19 beyond the number of COVID-19 deaths reported by countries," the WHO said.
The World Health Organization (WHO) is tracking global excess mortality as the pandemic evolves to reveal a picture of its full impact and burden on countries, health systems, and individuals.
"Excess mortality includes deaths attributable directly to COVID-19 that were counted and reported to WHO by countries. It also includes deaths attributable directly to COVID-19 that were not counted or reported by countries. It also includes deaths indirectly associated with COVID-19, due to other causes and diseases, resulting from the wider impact of the pandemic on health systems and society.
It is minus any deaths that would have occurred under normal circumstances but were averted due to pandemic-related changes in social conditions and personal behaviors," the WHO said in a statement.