Chile's Constitutional Convention releases draft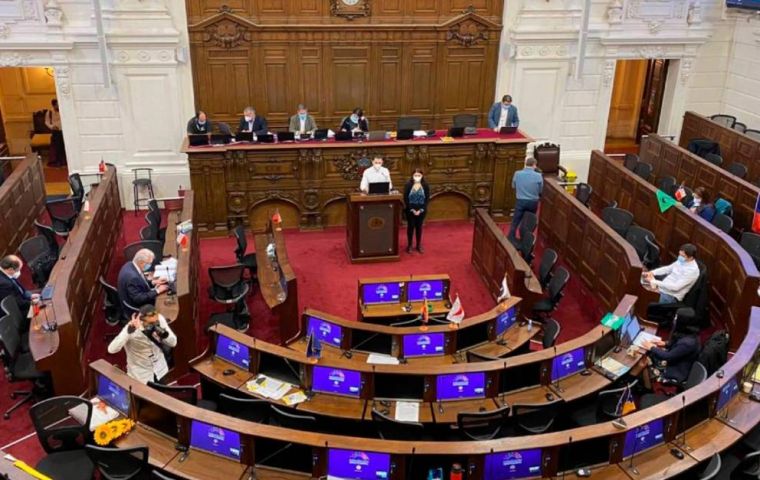 Chile's Constitutional Convention Sunday published the draft of the text it penned to replace the Carta Magna inherited from 1980 and which was inspired by former military dictator Augusto Pinochet.
The draft consists of 499 articles and 160 pages, which will be put up for popular approval through a referendum Sept. 4. The new Constitution proposes that "Chile is a social and democratic State of law. It is plurinational, intercultural and ecological. It is constituted as a Republic of solidarity, its democracy is parity and recognizes as intrinsic and inalienable values the dignity, freedom, substantive equality of human beings and their indissoluble relationship with nature." The new text also provides for a two-House Legislature, unlike the Pinochetist structure.
It took the Convention 103 plenary sessions to come up with a text that means a substantial change from the Founding Norm currently in force.
The draft includes, among other changes, that "the State recognizes and promotes a society in which women, men, diversities and sex-gender dissidences participate in conditions of substantive equality."
It also mandates that all state bodies, "public and semi-public companies must have a parity composition that ensures that at least 50% of their members are women."
Another change is that it bans the "forcible return to the borders" of all asylum seekers or foreign refugees, in addition to providing for a voluntary interruption of pregnancy, and a voluntary and protected childbirth and maternity.
It also mentions a "legal pluralism," which would allow the creation of courts for indigenous peoples that would coexist under a coordinated National Judiciary, in addition to a Justice Council which would oversee the functioning of the courts "of an autonomous, technical and plurinational nature" to strengthen the independence of the magistrates.
The draft is to be sent Tuesday to the Harmonization Committee, formed by 40 constituents, who will review the wording and make suggestions to make it consistent and coherent.
It will work in parallel with the Preamble Committee and the Transition Committee, which would work on the articles necessary to move on from one Constitution to the next.
If the new Constitution is rejected by the plebiscite, the one from the Pinochet era will remain in force.
The drafting of this new proposed Constitution was a political way to appease the October 2019 uprisings which brought the then little-known Gabriel Boric into the limelight to the point that he is now President.